10

Chapter 10 – Vegan Dishes
Heather's Spicy Sweet Potatoes
Heather Lindahl
Ingredients
Sweet potatoes (one per person)
Olive oil
Salt and freshly ground black pepper
Tumeric
Nutmeg
Cayenne pepper
Preparation
Preheat oven to 400º.
Peel one large sweet potato per person and slice into half-inch-thick medallions.
Coat a baking sheet with olive oil and salt.
Arrange the sweet potato slices across the baking sheet in a single  layer.
Pour olive oil over the potatoes, and, using a basting brush, spread the oil around to coat all surfaces.
Grind black pepper (and salt to taste) across all potatoes.
Sprinkle generously with turmeric powder and sprinkle moderately with nutmeg.
Sprinkle sparingly (but thoroughly) with cayenne (pinch a small dusting onto each medallion).
Bake for approximately 30 minutes or until the bottoms are toasted.
For non-vegans:
Serve with a large dollop of plain cold yogurt on the side for dipping.
---
*
Southwestern Potato Bowl
Martha Meyers
     Here is a hearty and delicious oil-free recipe that is great for heart health and for anyone who is watching their weight. It makes me happy from head to toes! It is derived from a recipe by Rip Esselstyn, NYT best selling author, marathoner and former Austin TX firefighter.
Ingredients
4 large Yukon Gold potatoes
1 (15 oz.) can of pinto beans
1 can of Rotel or any other brand Diced Tomatoes with Green Chilies (or limit to just 1/2 c. if you prefer less heat)
8 oz. frozen corn
1 red bell pepper cut into medium dice
2 green onions, chopped
2-4 c. fresh spinach
Fresh cilantro
Your favorite hot sauce, if desired
Preparation
1. Preheat the oven to 375º.
2. Place the potatoes right on the rack and bake for 45 minutes or an hour until done.
3. Heat the beans in a pan set over medium high heat and when hot, mash half of them with a fork. Add the diced tomatoes and green chilis, the corn, bell pepper and onion.
4. In 2 large dinner bowls, place a layer of fresh spinach on the bottom and then put a potato, either cut in half or cubed, on top. Pour the bean mixture over eveything, garnish with the cilantro and hot sauce, and enjoy!
---
*
One Pan Chocolate Cake
Farnum-Crossen family
     This moist chocolate cake is easy on the clean-up and easy for kids to make with a grown up. While you're at it, show them how acid reacts with a base since you have the baking soda and vinegar out. Feel like you schooled them for the day. STEM learning at home aside, you may never bother eating any other comfort dessert! Plus, it's vegan!
Ingredients
1¼ c. all-purpose flour
1 c. sugar
1/3 c. cocoa powder
3/4 tsp. baking soda
1/2 tsp. salt
1/3 c. canola or avocado oil
1 tsp. vanilla extract
1 tsp. apple cider vinegar
2 Tb. chocolate chips (vegan or dairy)
Dusting sugar (optional)
Preparation
Preheat oven to 325º.
In an 8 x 8 pan, mix together the dry ingredients.
Add 1 cup of water along with the oil, vinegar, and vanilla. Mix, whisk, or fork-mash until thoroughly combined.
Using a rubber spatula, scrape the sides of the dish and smooth the batter. Sprinkle chocolate chips on top.
Bake 28-32 minutes, or until toothpick comes out nearly clean.
Cool the cake, and if desired, dust with powdered sugar (fancy stencil for fun?) and then cut.
---
*
Feijoada
Halka
     Feijoada is the national dish of Brazil. This is a vegan rendition of my mom's recipe and makes my whole house smell like saudade*.  Filling for the soul and the belly.  Also, it is dirt cheap to make.  Was there ever a more COVID-19 appropriate food?
     *Saudade is a deep emotional state of nostalgic or profound melancholic longing for an absent something or someone that one cares for and/or loves while simultaneously having positive emotions towards the future. Moreover, it often carries a repressed knowledge that the object of longing might never be had again.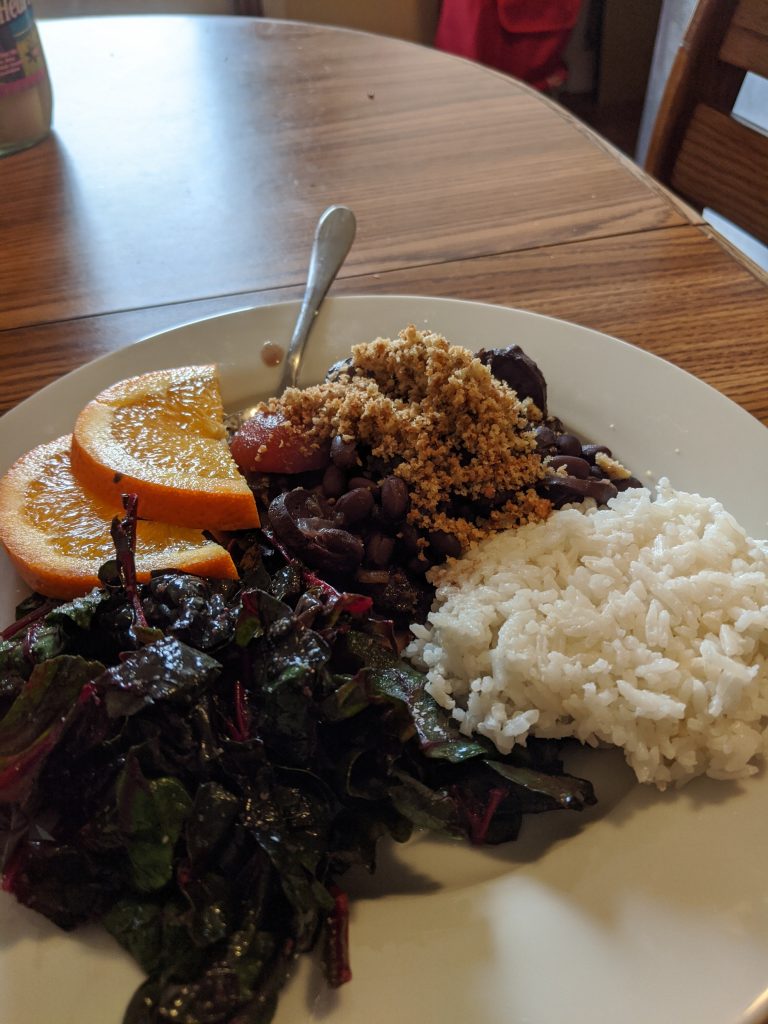 Time: 1½ hours + overnight
Ingredients:

Black beans
1 can stewed tomatoes
Onions
Garlic
faux- meat (vegan hot dogs, sausages, breakfast patties, whatever you have around. Don't break the bank– it will all be delicious.)
White Rice
Collard Greens
Onion
Orange
Farofa (bread crumbs work great)
Salt, Pepper, Garlic Powder
Lemon Juice
Preparation
1. Soak black beans in water overnight.
2. Fry vegan hotdogs, sausages, breakfast patties, or whatever faux-pig products you have around in both a heavy-bottomed pot and a sautée pan. You want the flavor
in both. Veggie hot dogs are the most economical, easiest to find, and delicious. Fry in oil, salt, pepper, and garlic powder until crispy.
3. Remove faux-meat. Reserve sautee pan for later.  In pot, caramelize two roughly chopped onions.  Add crushed garlic.  Season with salt, pepper, and oil.
4. Drain black beans (can use bean water for other vegan cooking).  Fill pot with water until just over the beans.  Stir to make sure all the caramelized onions and seasoning from faux-meat incorporated.
5. Cook for 1 hour.
6. Stir and taste for seasoning.  Add 1 can stewed tomatoes and chop or crush them up so they are small pieces.  Add back reserved faux meat and any accumulated oil or juices.
7. Cook uncovered for another 1/2 hour to thicken.  Use this time to cook sides.
The Sides:
A full Feijoada plate is served with these colorful and delicious sides.  To get everything at its hottest and most delicious, I recommend cooking the sides at this time.
1st. White Rice: 
1. Cook white rice so that it is ready with beans, farofa, and greens.
2. Sure it could be brown rice, but traditionally, it isn't.
2nd. Orange:
1. Slice an orange so that it is ready to serve with the plate.
2. You can peel if you wanna be fancy.
3rd. Toasted Breadcrumbs (Faux-Farofa): 
1. What? No cassava flour lying around your pantry during COVID-19? Well, I bet you have some ends of bread that you don't feel like eating.  Chop and toast that up into breadcrumbs.
2. Add breadcrumbs to a pan with oil or vegan butter.
3. Toast until medium brown and crunchy.
4th. Greens
1. Clean and stem whatever greens you can find.  Traditionally collard greens, but I used Swiss Chard.
2. Pile leaves and roll together.  Chop in 1/3 inch strips.
3. Add to pan with faux meat drippings on medium heat.
4. Add lemon juice salt and pepper.
5. Cook till leaves just darken and are not yet wilted.
Build a beautifully colorful plate and enjoy!  Saúde!
---