7

Chapter 7 – Main Courses
---
Gnocchi with Sausage and Spinach
Smriti (Simi) Wagle
     This recipe has been a favorite in our family for years and is a dish that we like to make for Sunday dinners together. It has a combination of healthy ingredients like spinach along with some fun/tasty ingredients like Italian sausage and gnocchi. The recipe is easy and the ingredients are simple but when put together, this dish is always a hit with friends and family of all ages.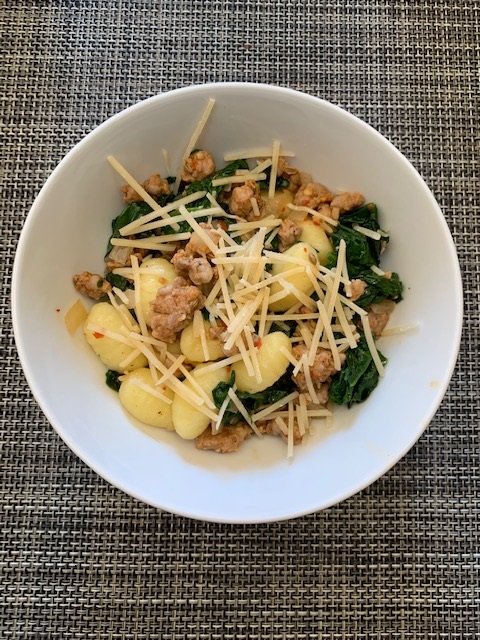 Ingredients
1 (17.5 oz.) shelf stable package of gnocchi
1 Tb. olive oil
1 medium yellow onion, finely chopped
1 lb. Italian sausage, casings removed
1-2 cloves garlic, finely chopped
1 (5 oz.) bag of spinach, coarsely chopped (you can use up to 10 oz. if desired)
1/2 tsp. kosher salt
1/4 tsp. pepper
 1/2 c. grated parmesan cheese (if desired)
Preparation
Cook the gnocchi according to the directions on the package and drain (but save 1/2 cup of the cooking liquid).
Heat the oil in a large skillet over medium heat and add the onion.  Cook about 3 minutes or until the onions have softened.
Add the sausage to the skillet and cook until browned. It should crumble into bite size pieces.
Add the garlic, spinach, salt and pepper.  Mix together all the ingredients and cook about 3 minutes until the spinach wilts.
Add the cooked gnocchi and mix.  Add as much of the saved gnocchi cooking liquid as desired.
Serve with grated parmesan cheese sprinkled over the top.
Makes 4 – 6 servings.
---
*
Turkey Chili
Christine Kenny
     This delicious chili recipe is the chili of my childhood, only with ground turkey instead of ground beef. It never disappoints. Enjoy!
Ingredients
1 large red onion, chopped
1 large green pepper, chopped
2-3 cloves minced garlic
1 Tb. vegetable or olive oil
2 lbs. ground turkey
2 cans (14½ oz.) diced tomatoes
1 bottle (12 oz.) Heinz chili sauce
1 Tb. chili powder
1 tsp. lemon pepper
1 tsp. dried basil
1 tsp. cumin
1/2 tsp. dried thyme
Optional: a couple of good dashes of hot sauce or red pepper flakes
1 can (15½ oz.) kidney beans, drained
1 can (15½ oz.) black beans, drained
Preparation
In a Dutch oven, sauté the onions, green pepper, and garlic in the oil.
Add the turkey and cook until lightly browned.
Add the tomatoes, chili sauce, chili powder, lemon pepper, basil, thyme, and hot pepper sauce.
Cover and simmer for 45 minutes.
Add the beans and simmer an additional 20 minutes.
If you wish, serve topped with green onions, shredded cheese, and/or sour cream
---
*
Chicken Parmesan
James Hartman
       I used to prepare this at a cozy place called Panino's Cafe which was once located on Central Street. It seems like a galaxy far, far away, otherwise I have always enjoyed this Italian dish.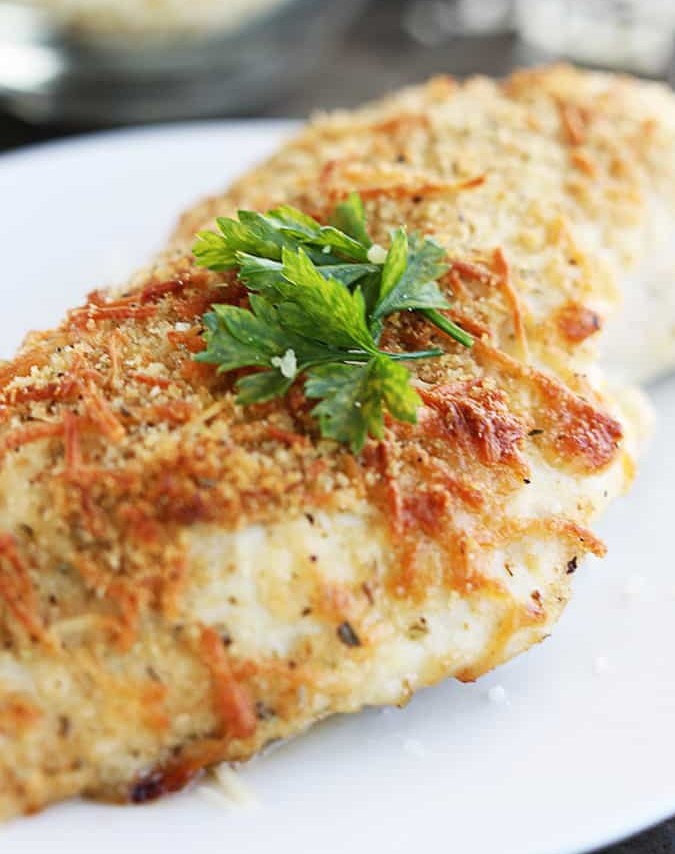 Ingredients
1 boneless chicken breast (per serving)
bread crumbs
parmesan cheese
butter, melted
Preparation
1. Melt some butter in an oven safe baking dish.
2. Douse the chicken in melted butter, then dredge it in an equal mixture of bread crumbs and parmesan cheese.
3. Place the chicken in the baking dish and cook at 325 degrees for about 40 minutes.
---
*
Bahn Mi Bowl
Kim Romain
     We don't have a big story about this meal.. it's just a family favorite! It's great the night you make it, and still delicious as leftovers. Sometimes we throw some additional cucumber slices in with the pickled carrots and onions and add those to all sorts of things. So yummy!! A definite hit in the Romain household. 🙂 This is based on the recipe found on Budget Bytes (budgetbytes.com).
Ingredients
Pickled Carrots
2 medium carrots, shredded or julienned
1/2 red onion, very thinly sliced
1/2 c. rice vinegar
1/4 c. white sugar
1/2 tsp. salt
1/2 c. water
Meatballs
1 lb. ground chicken
1 large egg
1/2 c. plain breadcrumbs
1/4 tsp. garlic powder
1/4 – 1/2 tsp. ground ginger
1/2 Tb. soy sauce
2 whole green onions, sliced
Bowls
2 c. jasmine rice
3 c. water
1 medium cucumber, cut into quarter rounds
2 medium jalapeños (optional), seeds removed and thinly sliced
1/2 bunch cilantro
sesame seeds
Preparation
Make the pickled carrots first. In a small sauce pan combine the vinegar, sugar, salt, and water. Heat over a medium flame and stir until the sugar is dissolved. Turn the heat off. Combine the carrots, sliced onion, and vinegar mixture in a mason jar. Make sure the vegetables are fully submerged in the liquid and refrigerate for at least 30 minutes (or up to one week).
Next, get the rice started. Place the rice and water in a medium sauce pan. Place a lid on top and bring it to a boil over high heat. As soon as it reaches a full boil, turn the heat down to low and let it continue to simmer for 15 minutes. After 15 minutes, turn the heat off and let it sit, undisturbed with the lid in place, for an additional 15 minutes, or until you're ready to use it.
After the rice is started, begin making the meatballs. In a large bowl combine the ground chicken, egg, breadcrumbs, minced garlic, grated ginger, soy sauce, and green onions. Mix these ingredients thoroughly (your hands are best for this job).
Preheat the oven to 400 degrees. Line a baking sheet with foil and spray it lightly with non-stick spray. Form the meat mixture into about 30 meatballs, approximately 1 tablespoon each, and place them on the prepared baking sheet.
Bake the meatballs in the fully heated oven for 25 minutes. While the meatballs are cooking, prepare the jalapeno and cucumber. Pull the cilantro leaves from the stems.
Once the rice and meatballs are both finished cooking, you're ready to assemble!
Place about 3/4 cup cooked rice in the bottom of a bowl, top with about 4 meatballs, about 1/4 cup of the pickled carrots and onions, some cilantro leaves, cucumber, and jalapeno. Add a splash of soy sauce over the top along with some sesame seeds. Enjoy!
---
*
Lemon Chicken or Piquant Veal
     This recipe for lemon chicken has been a favorite of mine for many years. It is best when prepared the night before and then cooked on the day it is to be served. In that way, you can enjoy your guests and  not worry about last minute preparation. It is also delicious and leftovers do very well.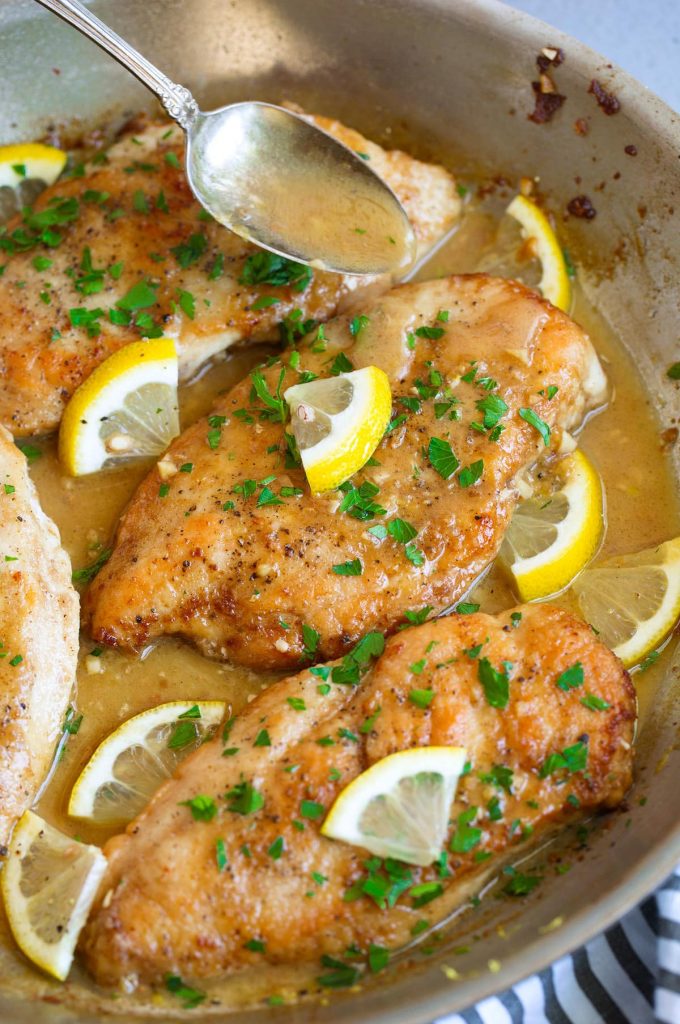 Ingredients
4 slices veal cutlets or 2 chicken breasts (split, boned and pounded)
½ tsp. each of salt and pepper
flour for coating meat
3 Tb. butter
2/3 c. chicken broth
2 Tb. fresh lemon juice
grated peel of 1 lemon
3 Tb. parsley (chopped)
4 slices lemon
Preparation
1. Sprinkle the chicken or veal with salt and pepper and dust with flour.
2. Heat the butter. Add the meat and cook quickly. Transfer to a platter.
3. Add the broth to the pan and cook over high heat, stirring and scraping until you have a smooth sauce. Stir in the lemon juice and lemon peel.
4. Pour the sauce over the meat. The dish may be served immediately but is actually better if it soaks 4 hours or overnight. You can warm it up in an
oven preheated to 350 degrees
for about one hour.
5. Garnish with the parsley and lemon slices.
---
*
Römertoff Bison Roast
     I'm not an Evanston resident; I live in West Ridge in Chicago. However, I have friends in Evanston, shop there, and have contributed my comments to several political discussions there, such as the mature trees on Orrington. Evanston is kind of a second home town for me. Recently I joined the history book discussion group at your library, and we look forward to being able to meet in person again, though online will have to do for the time being.
     I created this recipe myself. It's good. I wish I could afford to make it now. This recipe makes a hearty, satisfying entrée; but of course many others can be used, and the reader is invited to try them.
     The Römertopf is an unglazed clay pot with special cooking and care instructions included.
Ingredients
4.4 lbs. Bison top round
New red potatoes
Whole boiling onions
California bay leaf
Small hot pepper
Preparation
Place the bison meat in a #113 size 4-qt. Römertopf.
Arrange the peeled onions and potatoes alternately around the bottom edge of the meat. Use enough so that they all touch.
Put the peppers between a potato and an onion. Put the bay leaf on top of the meat.
Bake at 480º F for 90 minutes.
---
*
Polish Sausage & Sauerkraut
Cindy Greenwood
     This is an old family favorite from my Aunt Shirley Goodrich who always brought it to our family gatherings. I'm originally from Valparaiso, Indiana, but moved recently to Evanston to be near our two-year-old granddaughter.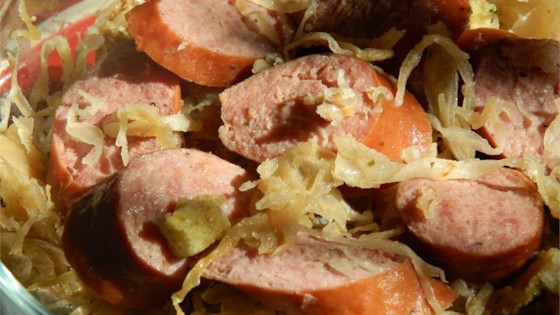 Ingredients
3 (2 lb.) packages refrigerated sauerkraut
1/2 lb. bacon
3 Tb. minced onion
8 oz. can tomato sauce
1/4 c. brown sugar
6  12″ long pre-cooked Kielbasa, cut in 1½" pieces
Preparation
Rinse and drain the sauerkraut well.
Chop the bacon into fine pieces. Brown the bacon with the onion and drain off the grease.
Combine all the ingredients except the sausage in a roasting pan. Arrange the sausage on top.
Bake at 325º for one hour.
Note: this recipe can easily be cut in half.
---
*
Mrs. Little's Meat and Potato Pie
Carol Hersh Blechman
     This is a recipe that was shared with me by the head mistress of Elamore Hall near Durham, England  when I was a guest student teacher during the fall of my senior year at ISU. The school was a big, drafty estate converted to house boys with a range of social challenges, complete with hills, dales and a ghost that roamed the hallway late at night.
     This dish has been enjoyed by my own family, especially during Passover as all the ingredients are acceptable. It is also a dish that lends itself to hunkering down as most ingredients are usually found on the shelf. Catsup can be easily substituted for tomato sauce!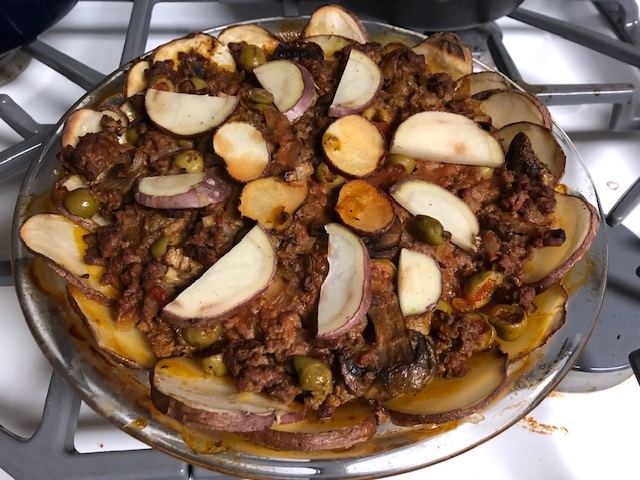 Ingredients
3 medium potatoes scrubbed, peeled and thinly sliced
1/2 c. onion
1/2 c. celery
1 clove minced garlic
3-4 mushrooms, cleaned and sliced
1 lb. ground beef
8 oz. of tomato sauce (or ketchup)
1 tsp. salt
1/8 tsp. pepper
1/4 tsp. oregano
1/4 c. sliced green olives
Preparation
Grease a 9 inch deep pie pan with olive oil or cooking spray.
Line the pie plate with the potatoes.
Sauté the onions, celery, garlic, and mushrooms.
Add the beef and cook until the meat has browned.
Season with salt, pepper, and oregano.

Add the tomato sauce, and stir gently.

Spoon the meat mixture into the potato lined pie pan.

Bake at 400º for 35-40 minutes until the potatoes are tender.

Cut the pie into wedges and serve.
---
*
Baked Pesto Chicken
Lynn Troutman
Cheesy, gooey, low carb comfort food. This is the easiest, fastest, and most delicious recipe in my collection right now. It brings an element of comfort-even to those shelter-in-place days. I make it all the time.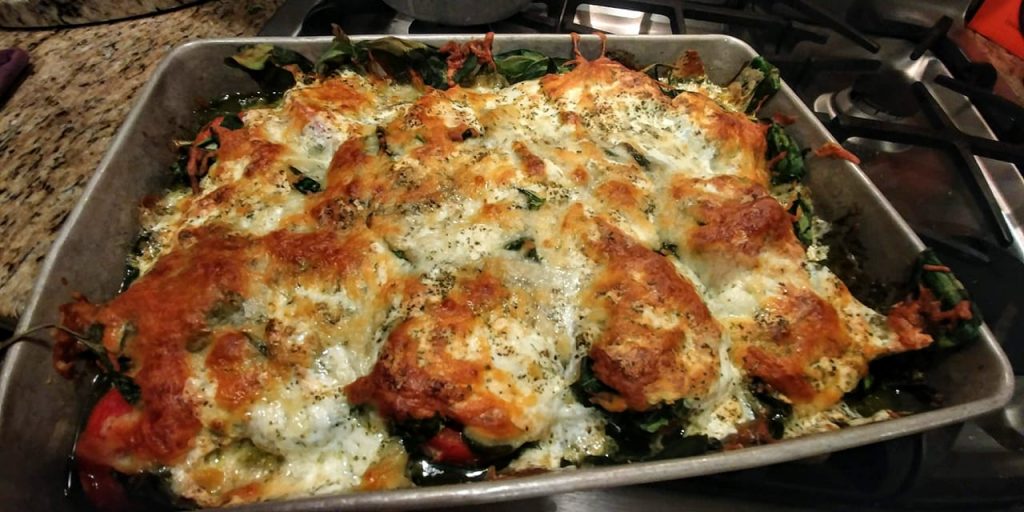 Ingredients
8-10 boneless, skinless, chicken thighs
2 bags baby spinach, pre-washed
basil pesto (I like Bear Pond from Whole Foods)
6 Roma tomatoes, cut into 1 inch slices
16 oz. fresh mozzarella, pre-sliced into rounds
8 oz. bag shredded mozzarella
salt and pepper
garlic powder
Italian seasoning
Parmesan cheese, grated
Preparation
 Preheat the oven to 400°F.
 Spread one bag of spinach on the bottom of a 9 x 12 inch baking pan.
 Arrange the chicken thighs on top.
 Sprinkle the thighs with salt, pepper and garlic powder.
 Slather basil pesto on each chicken tender.
Place the tomato slices on top of the chicken thighs and sprinkle with salt.
Place the second bag of spinach on top of the tomato slices.
Place slices of fresh mozzarella on top of the tomato layer.
Sprinkle with the Italian seasoning.
Top generously with shredded mozzarella.
Sprinkle with parmesan cheese.
Bake for 40-45 minutes and remove from the oven when the top is golden brown.
Serve with garlic bread to soak up the juices.  Great for leftovers.
---
*
Cabbage and Sausage
Terry Soto
     I adapted this recipe from Sam Sifton's New York Times column.  It's very fast to put together but takes 2 ½ hours to cook.
Ingredients
Salt
3 Tb. unsalted butter
2 lb. fresh sweet Italian pork sausages or bulk sausage  (1.25 lbs turkey sausage is what I use)
1 large green or Savoy cabbage, about 4 pounds, cored and thickly shredded
butter
Freshly ground black pepper
Crusty bread and mustard, for serving  (optional)
Note: You can make this vegetarian by replacing the sausages with mushrooms, fennel or other ingredients of your choosing.
Preparation
Heat the oven to 300º. Butter a 9 x 13 x 2 inch baking dish. If using sausages, remove the casings and discard them.
Put about 1/3 of the cabbage in the buttered dish and cover with 1/2 the meat (or mushrooms, fennel, etc.)  Sprinkle with salt and pepper and dot with butter. Repeat, ending with a final layer of cabbage, and dot the top with butter.
Cover the dish tightly with a layer of parchment paper, then top with a lid or a layer of aluminum foil.

After 2 hours, uncover the dish. If there is a lot of liquid in the bottom, leave it uncovered for the rest of the cooking time, approximately 30 minutes. If not, re-cover and cook 30 minutes more

, until the cabbage is soft and sweet, and the top is lightly browned.
Makes about 6-8 medium servings.
---
*
Brazilian Fish Stew
Amy Funk
     This recipe is super easy and VERY forgiving – and the addition of rice makes it into several meals! If you don't want to use fish, you can substitute shrimp. It's equally delicious!
     I like to make the marinade and coat the tilapia ahead of time (even the night before!) and store it in the refrigerator until I'm ready to cook it.  This saves time when you are ready to cook. Marinating is, however, optional. Marinating results in the best flavor, but the times I have skipped that step because of time constraints, the stew still turned out delicious.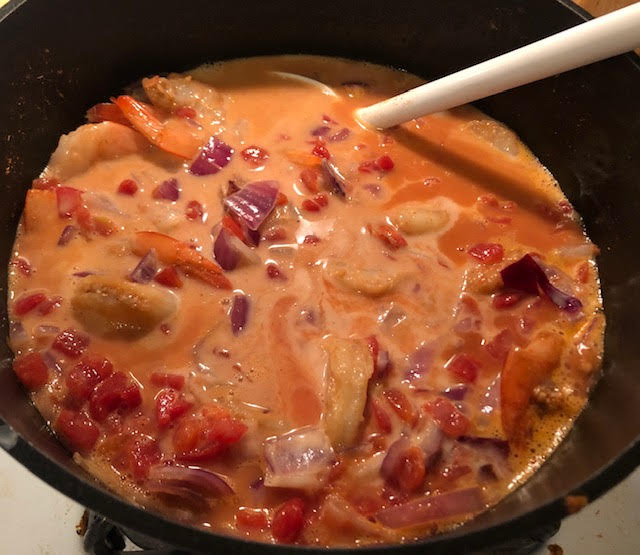 Ingredients
1/4 c. lime juice
1½ Tb. cumin
1½ Tb. paprika
1 Tb. minced garlic
1/2 Tb. salt
1/2 Tb. pepper
2 lb. tilapia fillets, cut in half (they can be frozen, just thaw slightly to cut)
1 Tb. olive oil
12 oz. frozen pepper and onion strips (1 bag)
14 oz. diced tomatoes, drained (1 can)
14 oz. light unsweetened coconut milk (1 can)
1 handful fresh cilantro, chopped (optional)
1 c. of rice (optional)
Note: If you want to use fresh peppers and onions, use 2 large bell peppers, cut into strips, and 1 medium onion, chopped.
Preparation
1. Combine the lime juice, cumin, paprika, garlic, salt, and pepper in a large bowl.
2. Add the tilapia and mix until coated in the spice mixture.
3. Cover and place in the refrigerator to marinate for 20 minutes or so.
4. Heat the olive oil in a large skillet or casserole over medium-high heat. Add the peppers and onions and cook until they begin to thaw, about 3 minutes.
5. Add the tomatoes and marinated tilapia and mix them in.
6. Pour the coconut milk over everything, mix and cover, and simmer about 20 minutes, stirring occasionally. Add rice if desired.
7. In the last few minutes, stir in the cilantro (optional).
8. When the tilapia is cooked through, garnish with additional cilantro (if desired) and serve.
---
*
Oven Pot Roast with Yogurt Gravy
Lynn Kendall
     This dish has become the quintessential comfort food for my friends and family. I discovered it in a long out-of-print cookbook that featured yogurt in all its recipes. It immediately became a favorite for my family growing up here in Evanston. It pairs splendidly with mashed potatoes, enhancing the comfort index until it's almost off the chart! Although it's  unassuming, it turns out surprisingly tasty. My family swears that with all the pot roast they have eaten over the years, this one remains outstanding.
     As an aside: My younger son became a vegetarian at age 12 and continued as one into his twenties. When he decided to resume eating meat, the very first dish he wanted was this pot roast!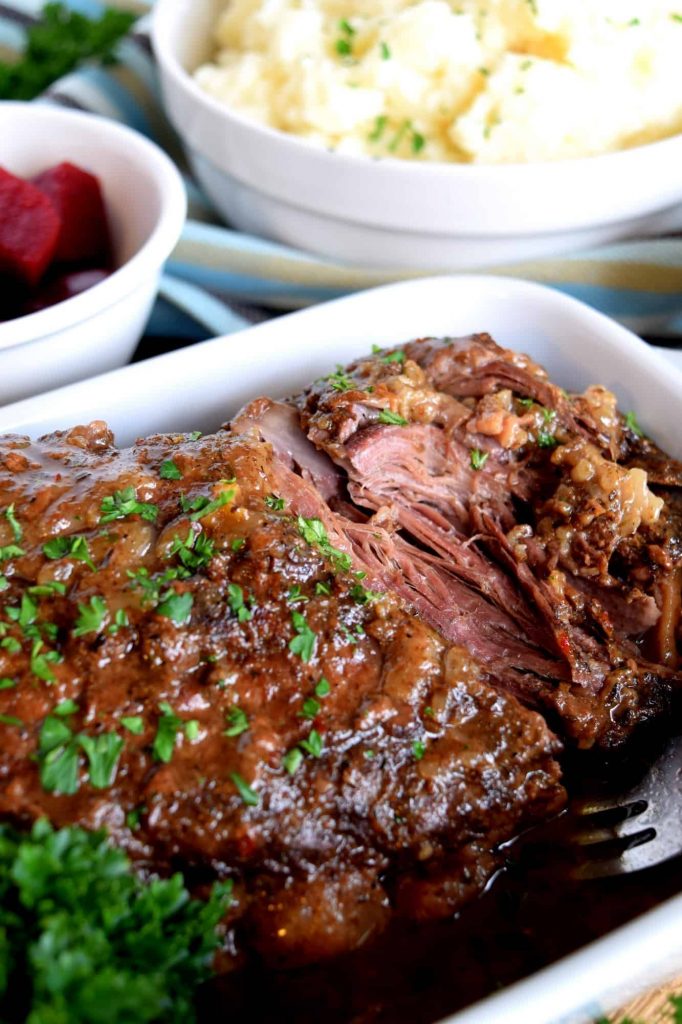 Ingredients
1 (3½ lb.) beef chuck roast
1 tsp. salt

1/8 tsp. pepper   

2 garlic cloves, minced 

1 (10½ oz.) can beef consommé   

½ c. minced onion   

1 bay leaf
1 Tb. brown sugar
½ tsp. cornstarch mixed with

1 tsp. water

½ c. plain yogurt at room
Salt and pepper to taste
Preparation
Preheat oven to 325 degrees.
Sprinkle meat with salt and pepper and place in a Dutch oven or large oven-proof pot.
Sprinkle the meat with the minced garlic, and then add the consommé, onion, bay leaf and brown sugar.
Cover and roast 3 to 3-1/2 hours until the meat is tender.
Remove the roast to a warm platter, slice and keep warm. Discard the bay leaf.
Place the pot you cooked the meat in over low heat. Add the cornstarch and water mixture and blend into the sauce in pot. Stir until thickened and remove from heat.
Stir the yogurt until creamy and slowly blend it into the hot gravy; season with salt and pepper to taste and immediately pour the gravy over the sliced meat and serve.
Makes about 6 servings.
---
*
Mom's and Grandma's Meatloaf
Barbara Linn
Ingredients
3 lbs. ground beef
1 Tb. salt
1 Tb. Accent
1/2 Tb. pepper
6 oz. tomato juice
6 oz. water
2 eggs, slightly beaten
4 oz. bread crumbs
4 oz. cornflake crumbs
4 oz. oatmeal
1 tsp. onion juice
1 tsp. parsley
2 Tb. chili sauce
2 Tb. sour cream
Preparation
Mix ingredients together and place in a 13 x 9-in. pan (or make two smaller ones). Bake 1 1/2 hours at 350º.
---
*
Lemony Shrimp and Bean Stew
Pam Seaman
     This recipe serves four and takes only about 30 minutes to prepare.
Ingredients
1½ tsp. fresh lemon zest
2 Tb. lemon juice
1 tsp. sweet paprika
2 garlic cloves, grated
kosher salt and black pepper
1 lb. peeled, deveined large shrimp, tails removed
4 Tb. unsalted butter (½ stick)
2 shallots, chopped
2 stalks celery, chopped
2 (15 oz.)

cans

cannellini beans, rinsed
2 c. chicken broth
2 Tb. finely chopped parsley or cilantro
Toasted bread for serving
Preparation
Combine the lemon zest, paprika, garlic, 3/4 teaspoon salt, and 3/4 teaspoon pepper in a medium bowl. Add the shrimp and toss to coat with the spices.
In a large pot melt the butter over medium-high heat. When the butter foams, add the shrimp and cook, stirring occasionally, until pink and starting to curl, 2-3 minutes.
Using a slotted spoon, transfer the shrimp to a plate, and set aside. Add the shallots and celery to the pot, season with salt and pepper. Cook over medium heat until the vegetables are soft and tender, 4-5 minutes, stirring occasionally.
Add the beans and chicken broth and bring to a boil over high heat. Lower the heat and simmer 8-10 minutes. Stir in reserved shrimp and any juices on the plate.
Add parsley and lemon juice. Adjust seasoning with salt and pepper and serve.
Serve with toasted bread.
---
*
Chicken with Broccoli and Cashews
Leigh Kennelly
  I found this easy stir fry recipe in the newspaper years ago. I have made it dozens of times and it is always delicious.

This is a quick and easy stir-fry recipe that tastes delicious. It serves six.
          (Leigh works at the main library in the Early Learning and Literacy Department.)
Ingredients
1/4 c. soy sauce
1 ½ Tb. dry sherry
3/4 tsp. ground ginger
1½ lbs. boneless chicken breast, cut into 1-inch pieces
1 lb. broccoli, stems peeled and flowerets removed; stalks sliced in 1/4 in rounds
7 Tb. oil
1/2 c. sliced green onions
1 large clove garlic, crushed
1½ c. coarsely chopped cashews, walnuts or chickpeas
Cooked rice
Preparation
Mix the soy sauce, sherry, and ginger in a small bowl. Add the

chicken and allow it to marinate for

10 minutes.
Steam the broccoli over boiling water 3 to 4 minutes, until crisp tender.  Drain; then rinse under cold water.
Heat 4 tablespoons of oil in a wok or large skillet. Add the green onions, garlic, and nuts; cook and stir 3 minutes. Transfer the cooked mixture to a small bowl.
Heat the remaining 3 tablespoons of oil in a wok.  Add the chicken mixture and stir-fry 6 minutes, or until the chicken is opaque.
Stir in the nut mixture and broccoli; toss until all the ingredients are hot.
Serve with hot rice.
---
*
Pasta à la Scott
Jeny Mills
     This is a recipe that my husband created early in the quarantine. I'm amazed at how great he is at taking ingredients we have in the fridge and coming up with something delicious. Of course, some recipes are more successful than others, but this particular one is my absolute favorite so far. We've made it a few times during quarantine, and I'm sure we'll keep making it when this thing is over. I've named it after him for the purposes of this cookbook, but I imagine we'll be calling it Quarantine Pasta in the years to come.
     (Jeny works at the Main Library in the Lifelong Learning and Literacy department. )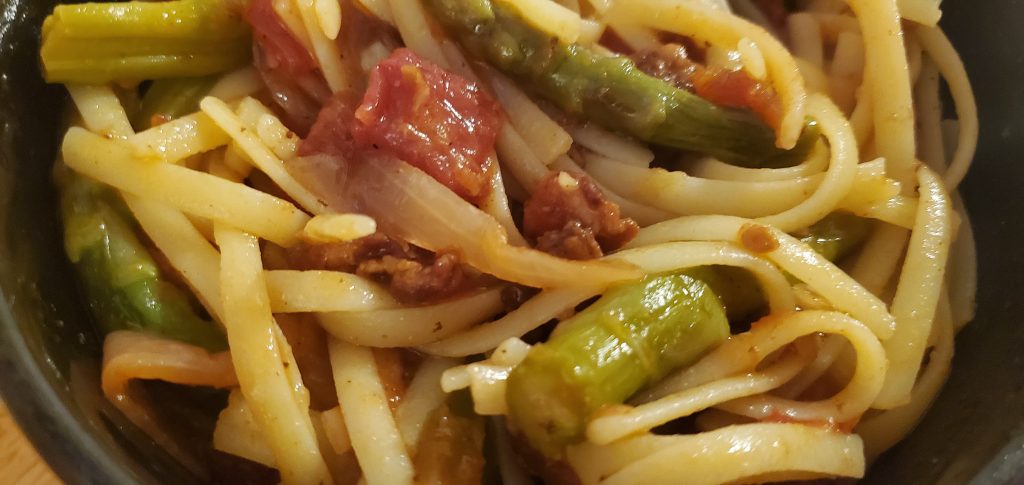 Ingredients
1 (12 to 16 oz.) package thick cut bacon, cut into approximately ½ inch pieces
1 large yellow onion, julienne cut
5-6 cloves fresh garlic, chopped
2 (8 oz.) cans petite diced tomatoes
salt (to taste)
fresh ground pepper (to taste)
1 Tb. butter
3 Tb. olive oil, divided
1 to 1½ lbs. asparagus, sliced
1 package pasta (we usually use fettuccine)
Preparation
1. In a large sauté pan over medium-high heat, cook the bacon until crisp.
2. Remove the bacon from the pan and drain off half of the grease (keep the other half in the pan).
3. Add the onion and sauté it in the bacon grease until it is fully soft (about 3 to 4 minutes).
4. After the onion is fully cooked, add 5-6 cloves of chopped fresh garlic. Sauté until fragrant (about 1 to 2 minutes).
5. Add the 2 cans of diced tomatoes.
6. Turn the heat to high, bring to a boil, and then reduce heat to medium.
7.  Add salt and fresh ground pepper to taste.
8. Next, add the cooked bacon, olive oil, and butter and let cook, stirring occasionally, until all ingredients are combined (about 5 minutes).
9. Add the asparagus and cook uncovered for an additional 5-10 minutes.
10. In the meantime, boil water and cook the pasta according to the package directions, then drain.
11. Toss the pasta with a tablespoon of olive oil and a dash of salt.
12. Add the sauce and mix in with the pasta, then serve hot.
Notes:
You can top with fresh Parmesan cheese, if you'd like.
This recipe can also be easily made gluten-free by using gluten free pasta. In fact, that's how we make it in our home.
You can also make it dairy free by leaving out the butter. The butter gives it a richer taste, but is not essential to the recipe.
---
*
Slow-Cooker Moroccan-Spiced Chicken Thighs With Couscous or Rice
Brooke Smart
     This recipe is easy to make and so warm and comforting.  Through the years, I have brought this dish to friends who are recovering from illness or injury, and everyone seems to love it.  After the stay-at-home order went into effect, this is one of the first things we made as all of the ingredients are easy to find and because eating it makes us feel happier!  We have a family member who can't tolerate gluten, so I serve it with rice instead of the couscous.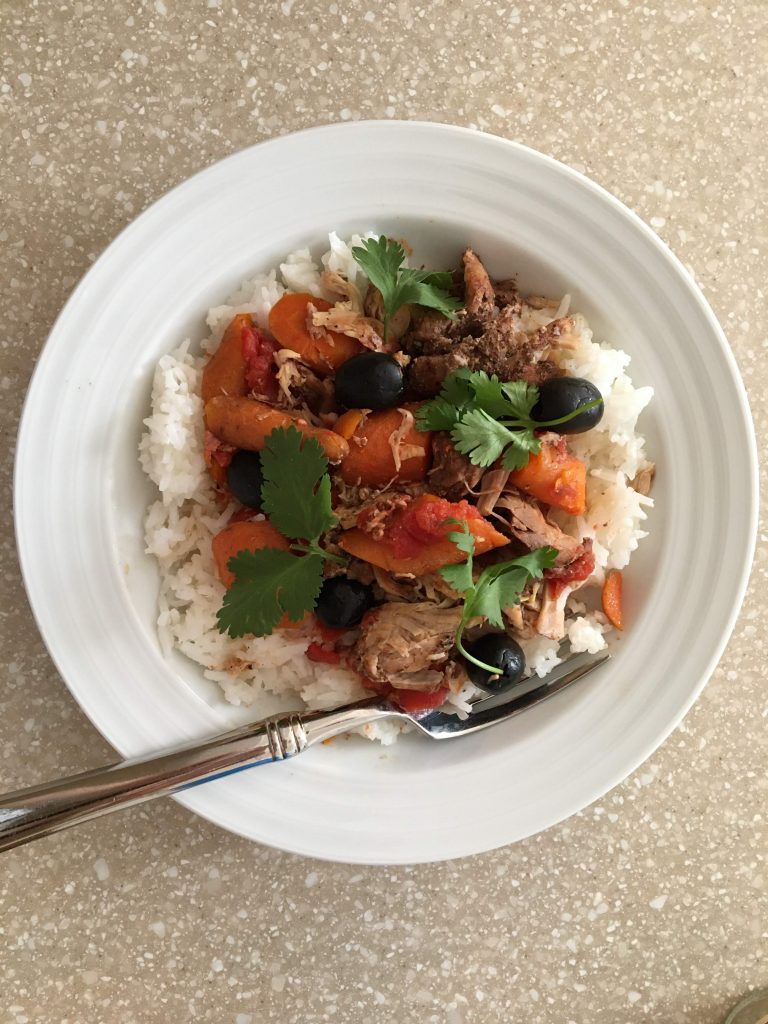 Ingredients
1 tsp. ground cumin
1 tsp. ground coriander
1/4 tsp. chili powder
3/4 tsp. cinnamon
kosher salt and black pepper
1½ lbs. boneless, skinless chicken thighs
1 (14.5 oz) can diced tomatoes, drained
1 lb. large carrots, cut into 1-inch pieces
1 c. pitted black olives
1 c. whole wheat couscous or cooked rice
fresh cilantro, for serving
Preparation
Mix the cumin, coriander, chili powder, cinnamon, and 1 teaspoon each salt and pepper in a 4- to 6-quart slow cooker. Add the chicken and toss to coat in the spice mixture. Add the tomatoes, carrots, and olives.

Cover and cook on low for 6 to 7 hours or on high for 3 to 4 hours, until the chicken is tender. Shred the meat and return it to the liquid with the vegetables.

Ten minutes before serving, prepare the couscous according to the package directions. If using rice, allow enough time to cook. Either white or brown are both fine.

Serve the chicken and vegetables over the couscous or rice, topped with the cilantro.
Total Time: 3 hours, 15 minutes to 7 hours, 15 minutes
---
*
Chicken Milanese
Joe Dugan
     I am a personal chef and caterer living and working in Evanston. I began my cooking career in Evanston as a grill and fry cook at Mustard's Last Stand on Central, later working as head chef of Dancing Noodles, also on Central Street. I grew up in Evanston, graduated from ETHS, and love the beauty of the lakefront, Northwestern, downtown, and everything else Evanston has to offer, especially our amazing farmer's market that my wife and I go to every Saturday. Recently I did a chef demonstration on the second floor of Campanola restaurant for 14 guests and I taught everyone how to make a three course meal, with chicken Milanese as the entree.
     Here is the recipe. I would love to be able to share this delightful and easy recipe with everyone during these difficult times.
Ingredients
2 thin boneless skinless chicken breasts,

pounded

and then soaked in 1 c. buttermilk overnight, or for at least 4 hours
1 c. panko bread crumbs
1/3 c. grated parmesan cheese
¼ c. dried parsley
2 tsp. Gateway to the North seasoning
2 Tb. canola oil
1/8 tsp. salt
¼ tsp. black pepper
4 oz. angel hair pasta
½ Tb. butter
2 oz. fresh arugula
½ c. halved grape tomatoes
3 Tb. aged balsamic vinegar
1 Tb. extra virgin olive oil
1/4 c. shaved Parmesan Reggiano in large pieces
1/8 c. pine nuts, toasted (If you don't like pine nuts you can substitute chopped walnuts or omit altogether)
Preparation
Heat the canola oil in a large non-stick sauté pan.
Combine the panko, parmesan cheese, dried parsley and seasoning mixture in a shallow medium sized bowl.
One at a time, carefully place the chicken breasts in the bread crumb mixture, turning to make sure both sides are covered.
Carefully lower one chicken breast into the hot oil and cook each side until the panko is golden brown, about four minutes on each side. Only cook one breast at a time.
Remove the chicken from the pan, place on a sheet pan and repeat with the other breast.
Cook the pasta according to the package directions and toss with the butter.
Combine the arugula and tomatoes in a bowl and toss with the oil and vinegar. Add in the parmesan and pine nuts.
Serve the chicken with the pasta and arugula salad on the side.
Serves 2.
---
*
Sauerbraten
Helga Bender
Serves 8 – 10 people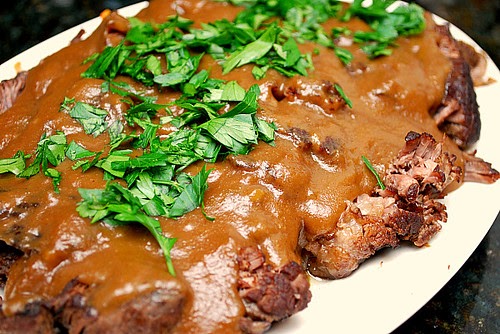 Ingredients
3½ – 4 lbs. eye of round
2 qts. buttermilk
red wine vinegar
2 large carrotsa
1 large onion
1 parsley root
1-2 celery stalks
2 bay leaves
6-8 juniper berries
bacon
Preparation
Peel and chop the vegetables.
Season the buttermilk with a little red wine vinegar, salt and pepper.
Put the meat in a non-reactive bowl and sprinkle the chopped vegetables and spices over it and then cover with buttermilk.
Marinate for 3 -4 days, turning the eat once a day.F
Fry a little bacon in a heavy pot that is large enough to hold the meat.
Remove the meat from the marinade (save the marinade) and dry if off with a paper towel and brown in the bacon fat.
Drain the vegetables and add to the meat and brown slightly.
With the cover of the pot slightly ajar, add the marinade little by little, turning meat occasionally
Let it simmer for 3 -4 hours until well done.
Remove the meat from the pot and set aside.
Blend the remaining mixture

in 2 -3 batches

in a blender.
Return the meat to the pot and add the blended vegetables.
Correct the seasoning and add more marinade or some water to get the right consistency for the sauce.
Let the meat rest in the sauce for 2 hours or overnight.
When ready to serve, reheat, slice the meat and serve with the sauce.
---
*
Beef Stroganoff
Kathy Bauer
     The recipe below was given to me by my mother who made this a lot. I learned how to make this and made it for my husband. This was one of his favorite dishes. I now make it on his birthday in his memory.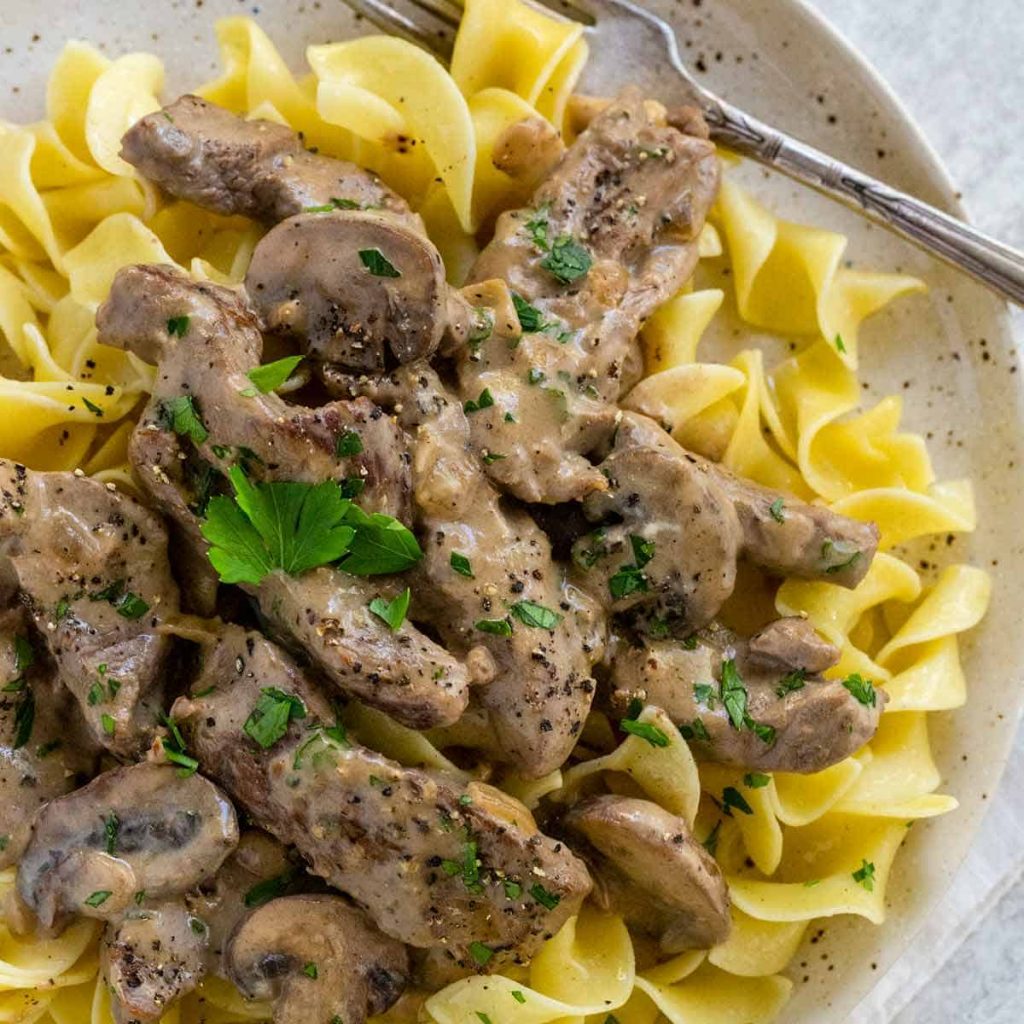 Ingredients
2 lbs round steak, sirloin steak or whatever steak you want to use; thinly sliced
1 lb fresh mushrooms, cleaned and sliced
4 tablespoons butter
1 clove of garlic, minced
1/2 cup tomato juice
Salt and pepper to taste
1 can mushroom soup
1 cup sour cream
1 package extra wide noodles
Preparation
Sauté the mushrooms in 2 tablespoons of butter and set aside.
In a pot sauté the meat in the remaining 2 tablespoons of butter and the garlic until browned.
Add the tomato juice and simmer until the meat is tender.
Add the mushrooms, soup, and sour cream. Heat until it's hot and bubbles.
Serve over hot egg noodles.
Note: I usually double the sauce ingredients because my family likes it that way.
---
*
Anna Berg's Halibut Loaf
submitted by daughter-in-law, Joanie Berg
     Anna Berg was a long-time Evanston resident. Says her daughter-in-law, Joanie, "She was a great gal– the best mother-in law– who is no longer with us and is truly missed. She would be so excited to know that her recipe is in a cookbook."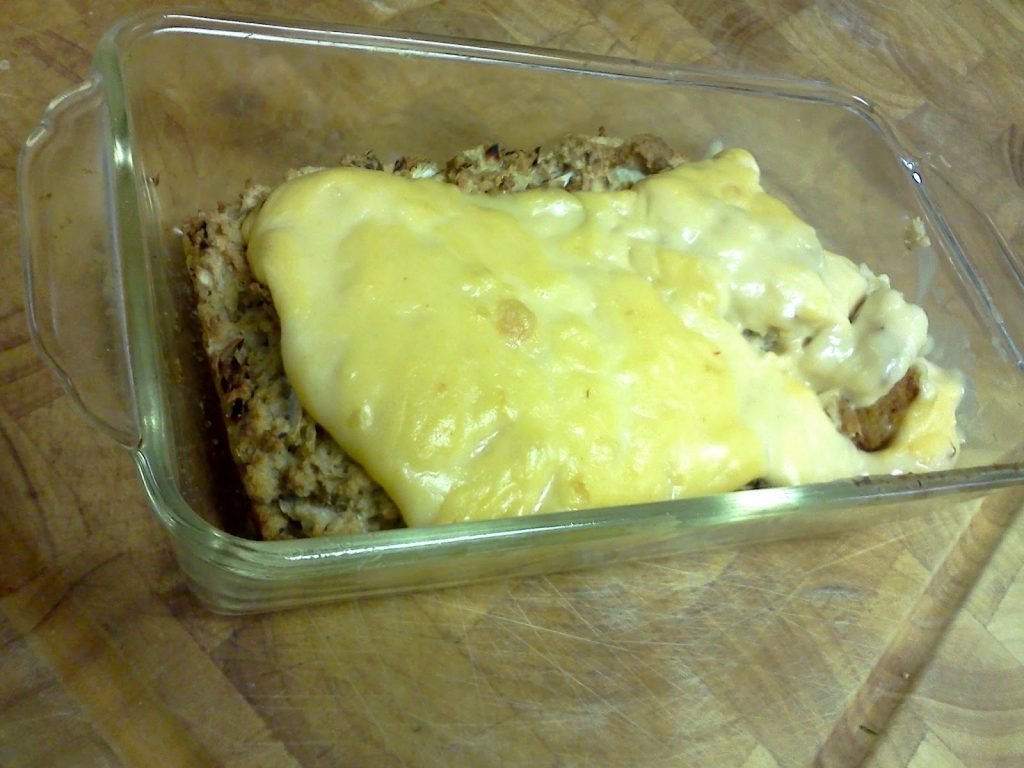 Ingredients
For loaf
1 lb Halibut
5 slices white bread, cut into small cubes
4 eggs, separated
2 cups milk
1 tsp salt
Almonds (optional)
For the sauce
2 tbsp butter
2 tbsp all-purpose flour
1/4 tsp salt
1/8 tsp pepper
1 cup milk
Preparation
For the loaf
 Heat the milk but do not allow it to boil.
 Add the bread to the milk and mix gently. Then add in the egg yolks.
 Remove any bones from the halibut and cube it in small pieces.
 Add the halibut to the mixture.
 Beat the egg whites and fold into halibut mixture.
 Butter a casserole dish and bake the loaf at 350º for approximately 60 minutes.
For the sauce
In a quart saucepan, melt the butter over low heat.
Stir in the flour, salt and pepper.
Cook over medium heat, stirring constantly until the mixture is smooth and bubbly. Remove from heat.
Gradually stir in the milk.
Return the pan to the stove and heat to boiling, stirring constantly.
Stir for at least a minute until the sauce is smooth.
For the almonds (optional)
Place the almonds on a slightly buttered cookie sheet and heat in the oven just until warm.
To Serve
Pour the white sauce over individual servings of halibut loaf and garnish with the almonds.
Serves 6.
---
*
Bolognese Sauce
Submitted by Jim Perkins
The great thing about the Bolognese sauce is you can freeze it, and have it ready in 10 minutes or give it to your sheltered grandma for her to do. Starting with 4# of meat Jane and I get 11 meals out of it.
This is meat sauce ("ragu") for spaghetti that you can make in great quantity and freeze. Use ground beef with or without veal, pork, mild Italian sausage, or even lamb mixed in. Lately I do 2# beef, 1# pork, 1# mild Italian sausage (loose, not in casings). Ground chuck is best to my taste; ground sirloin is a little dry. Mixing the ground meat up in a bowl first makes it easier to brown it, particularly if the sausage is in a casing.
The quantities given below will make about 22, 120 mL adult servings, but some people like a lot more sauce on their spaghetti. If you leave it runny, or add a little of the pasta water, there will be delicious liquid to coat the pasta all over. If you want a thick sauce just reduce it. Adjust salt and pepper at the table.
In Bologna classically Ragu would be served on Tagliatelle or Garganelli which are egg noodles, but any substantial pasta will due including regular Spaghetti, Bucatini and Penne; avoid thinner noodles. Again in Bologna classically, and usually in the US, a big dollop of sauce would just be ladled on top of the cooked and drained pasta, but I like to do it in the Southern Italian fashion designed to make less sauce go farther (verbal communication, Phyllis Liparini). In this case drain the pasta reserving plenty of starchy pasta and return the pasta to the big pot; add the hot (or reheated) sauce to the noodles, spoon in some pasta water, and correct the seasoning with salt and pepper. In my case I drain the pasta in a perforated insert from my pasta pot, then dump it on the thawed sauce waiting in a big high sided frying pan, and add back pasta water, salt, and pepper. The additional pasta water stretches the delicious sauce all over the noodles. Serve with grated Parmesan or Pecorino Romano cheese.
Ingredients
4 cup chopped onions (about 2 largish sweet onions)
4 lbs ground meat
4 heaping soup spoons of flour
2 cup chicken broth/stock – you can add more if it's getting too thick
2, 28 oz cans of tomatoes (purists demand San Marzano) – 1 can whole or diced and 1 can crushed
1 little can tomato paste (tubes of tomato paste are handy, but you need about half of a big one)
1 tsp paprika (don't overdo, too much will give sort of an astringent taste)
2 or 3 bay leaves
1 T basil (amount is not critical; hard to overdo)
1 T oregano (don't overdo it)
1 tsp thyme
1 tsp tarragon (optional; too much of this makes it taste soapy)
1 tsp or more black pepper (90 twists of my big pepper grinder)
1 tsp or more salt, (in part depending on the chicken broth)
Preparation
Brown in olive oil the onions. Add and brown the ground meat (see above). Sprinkle on and mix in before adding liquid the flour. Add the remaining ingredients. Simmer for at least 45 minutes, adding liquid – either stock or water – as needed. If it tastes bland it probably needs salt and pepper. You can also use some red pepper flakes.