4

Chapter 4 – Soups and Stews
Minestrone Soup
Anita Miller
     I've made this minestrone recipe probably 100 times.  The original recipe is from the Chicago Tribune, but I've modified it over the years.  It's easy and can be changed to include whatever veggies you like.  The secret to good minestrone is putting a couple parmesan rinds into the soup when it cooks.  I also love to put a couple dollops of pesto on top after it's spooned into the bowl.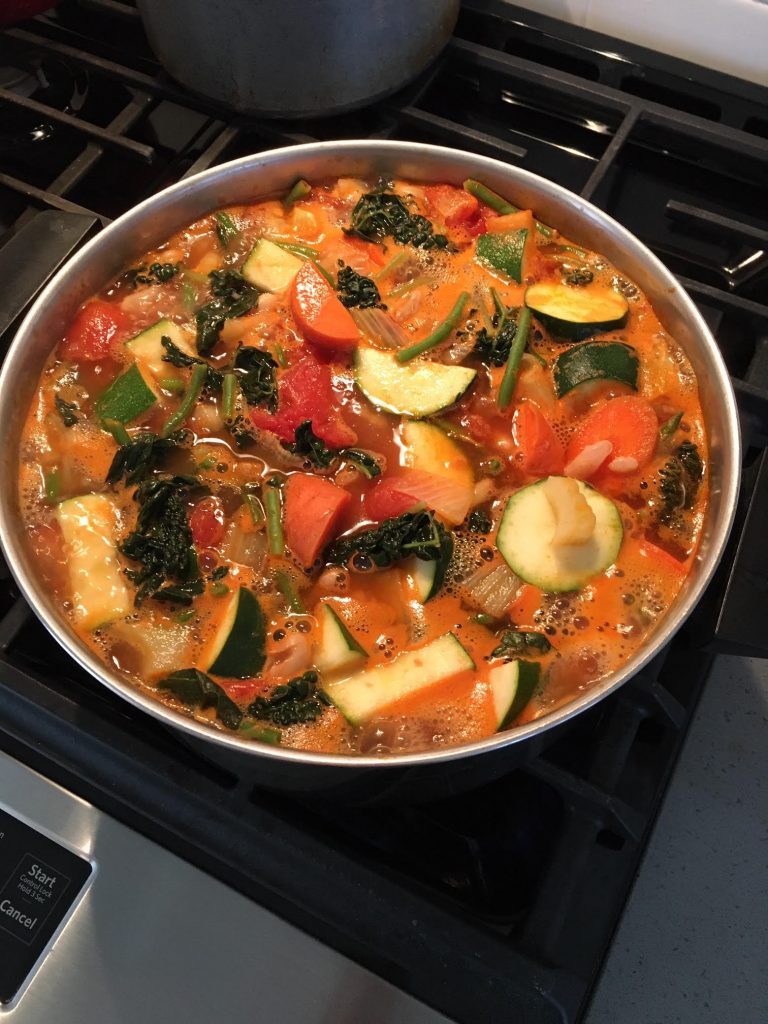 Ingredients
1 Tb. olive oil
3-4 carrots sliced
1 fennel bulb diced
1 onion diced
1 Tb. tomato paste
1 large can chopped or whole tomatoes (broken up – fun to squish these!)
1 bunch of dinosaur kale (aka Lacinto kale) torn into pieces (stems discarded)
1 large box of low sodium chicken broth
handful of frozen haricots verts
2-3 sliced zucchini
1 can white beans drained and rinsed
1-2 parmesan rinds
Handful of spaghetti about 3/4" in diameter broken into roughly 4" lengths
Additional water to fill the pot (may or may not be needed)
Preparation
Heat the oil in a large soup pot and then add the carrots, fennel and onion.  Sauté on medium heat for about 5 minutes but do not let the vegetables brown.
Add the rest of the ingredients.
Bring to a slow boil, then turn to simmer for about 30 minutes.
Serve with homemade or store bought pesto.
Note:  For more protein, put shredded leftover chicken in bottom of bowl and spoon soup over.
---
*
Lemony Dill Chicken Soup
Katherine Hunter
     I love this dish because it reminds me of Greek chicken lemon rice soup without the eggs. I regularly eat this soup – it's warming and refreshing at the same time while being very easy to make. Since I've eaten it so often during "stay at home" orders, I jokingly refer to it as my quarantine soup.
Ingredients
2 c. carrots, chopped to bite size
2 stalks celery, chopped to bite size
1 large yellow onion, chopped
2 cartons chicken broth
1 c. shredded chicken
1 Tb. chicken soup base
Juice from 2 lemons
1 c.chopped fresh dill
1 c. orzo or other small noodle
1 tsp. oil
1 pat of butter
Preparation
1. Place oil and butter in large pot over medium heat, wait for butter to melt.
2. Add celery, onion and carrots to to pot. Stir to coat in oil and butter. Cook vegetables over medium heat until softened.
3. Add chicken broth and bring to boil.
4. Add orzo, cooking according to package directions or until al dente (approximately 7-8 minutes).
5. Add chicken and chicken soup base, stir and let cook for 2-3 minutes.
6. Remove from heat add lemon juice and dill.
7. Enjoy!
---
*
Sausage and Pepper Soup 

I dug up the foundations for this recipe 20 years ago on a web bulletin board I think. Over the years, I've since slightly tweaked and mangled it into something I always make for guests who stay more than a night at my Evanston home. I always get rave reviews. Hearty and warming, I present my Sausage and Pepper soup. (also: Bonus is that it freezes and reheats easily in the microwave).  Serves 6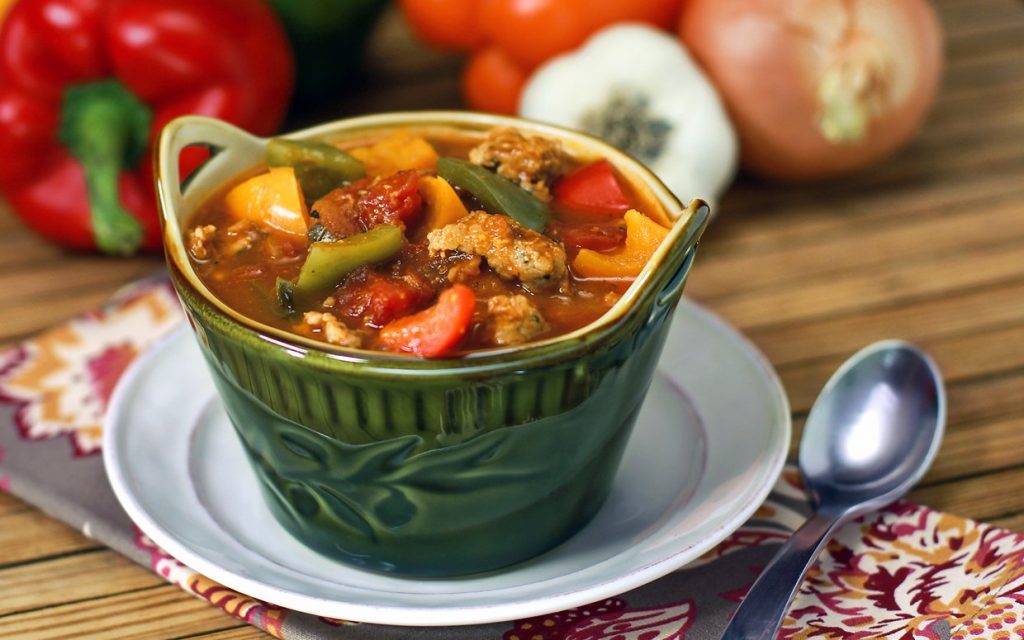 Ingredients
1 Tb. extra virgin olive oil
1 lb. mild Italian sausage, ground
1 small yellow onion, diced

3 garlic cloves, minced fine

4 bell peppers, (red, orange, yellow and green) – chopped into ¼" chunks

1 (28 oz.) can diced tomatoes
8 Tb. tomato paste
8 c. chicken stock
1 tsp. fresh ground black pepper
½ c. rough chopped fresh basil
¼ c. rough chopped fresh parsley
Preparation
Place stock pot or dutch oven on medium heat: add olive oil and once heated, add sausage and brown, stirring occasionally for 6 minutes or so.
After the sausage is browned, add the onion and garlic, stirring occasionally until translucent. Add the peppers and cook until tender, about 8 minutes.
Then add the tomatoes, scraping the bottom to incorporate the good stuff. Add the broth and tomato paste.
Bring to a boil. Then add the pepper, basil and parsley.
Boil for 10-15 minutes.
Reduce heat and simmer for 30 minutes.
---
*
White Bean Soup 
Cecilia Ackmann
This is an updated family favorite based on a recipe

by Neli Howard in

Delicious Meet Healthy

.

. This is and has always been my favorite soup. For my whatever-special-food-you-want birthday dinners, I always picked this soup served along side cornbread with butter and honey. Thanks, Mom; food for anyone's soul!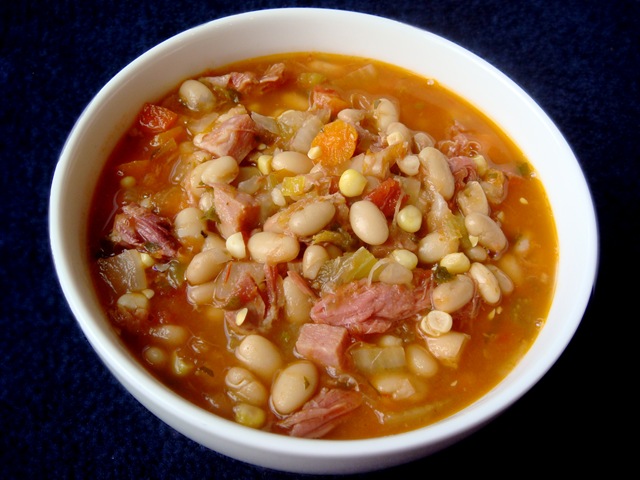 Prep: 15 minutes                           Cook time: varies by method used                                      Serves: 8                                Calories: 240
Ingredients
1 lb. dry white beans; navy, cannellini or Great Northern; soaked for 1 hour using quick soak method below
1 Tb. olive oil
1 carrot, chopped
1 onion, chopped
3 cloves garlic, minced
1 medium tomato, chopped (canned is also fine)
1 lb. ham, smoked pork chop, ham hocks or smoked turkey; cubed
4 c. vegetable or chicken stock
2 c. water; may add more if serving next day as it thickens over time
2 tsp. salt (may need less if meat is very salty)
1 tsp. freshly ground black pepper
1 tsp. dried mint (optional)
1 tsp. thyme
1 tsp. paprika
You can cook this soup in an Instant Pot, slow cooker or on the stove top.
Preparation
Instant Pot Instructions
Press the "sauté" button and add the oil, carrots, onions, garlic and tomato to the pot. Cook, stirring occasionally for 5 minutes.
Dump the remaining ingredients in the Instant Pot and close and lock the lid. Move the valve to sealing and cook on Manual for 15 minutes.
When the soup is done and you hear the beep sound, click the Cancel/Keep Warm button. Let the natural pressure release for 10 minutes or until all pressure is out. Serve warm.
Slow Cooker Instructions
Add everything to the slow cooker and cook on low for 8 hours (or on high for 4 hours). Serve warm.
Stove Top Instructions
Add cold water to cover the soaked beans by about 1 inch. Bring to a boil over high heat and boil for 5 minutes.
Add the carrots, tomatoes, onion, garlic, and meat and drizzle with about tablespoon of olive oil. Season with salt, pepper, paprika, mint and thyme. Reduce heat to medium-low and simmer for about 1 hour, stirring occasionally, until the beans are tender.
Notes
Quick soak: Place beans in a large saucepan with about 7 cups of water. Bring to a rapid boil and boil for 5 minutes. Remove the pan of beans from the heat, cover and let stand for 1 hour. Drain off the water and rinse the beans.
---
*
Salmon Chowder
Julie DeCock
     This recipe is a combo of a few recipes I found online and had plenty of time during home-sheltering to adapt.  Like many people, I spent much of the first, cold months of isolation making and experimenting with soups.  This was my favorite among the new ones I tried and/or tweaked.
Ingredients
4 strips bacon, cut into ½ inch pieces
1-2 Tb. butter
1/2 c. celery (diced)
1/2 c. carrot (diced)
1/4 c. onion (finely chopped)
2 tablespoons all-purpose flour
1 2/3 c. chicken broth
2 c. potatoes (diced)
12 to 16 oz. fresh salmon (diced, or canned flaked salmon)
1 c. frozen peas (thawed; optional)
2 c. half-and-half (or whole milk)
2 c. cheddar cheese (shredded)
1 Tb. fresh parsley (chopped)
Kosher salt (to taste)
Freshly ground black pepper (to taste )
Preparation
Cook the bacon in a deep skillet or soup pot.  Remove bacon. Add butter to bacon fat to measure about 3 tablespoons. Add celery, carrot, and onion and sauté, stirring, for 5 to 7 minutes on low-medium heat, until celery is tender.  Stir in the flour until well blended.  Stir in chicken broth and add potatoes. Bring to a simmer, stirring frequently.
Cover and simmer, stirring frequently, for 15 to 18 minutes, or until potatoes and carrots are tender.  Add the salmon and peas; cook, stirring, for 2 to 4 minutes, or until the peas are tender and salmon is cooked through but not overcooked.
Add half-and-half or milk, along with the cheese and parsley. Taste test and season with salt and pepper, to taste.  Stir while cooking until cheese is melted and the soup just begins to bubble.
---
*
Quick & Easy

Veggie

Soup




 
Carly Ubersox
     In our family, we have several different palates to please, and this flavorful, comforting soup is a favorite with kids and adults alike. It is flexible, easy and comes together in about 30 minutes. It has been a sanity-saver recently, because when you are limited in produce availability, and leaning on pantry staples, this soup makes the most of what you have on hand. It feels good to still be able to serve something healthy!
Ingredients
Base veggies
E

xtra Virgin Olive Oil (EVOO)

1 leek, halved lengthwise and chopped into halfmoons

1 small onion,

any variety,

diced

4 carrots, cut into coins

3 celery stalks diced

4 garlic cloves (or more

to taste

), minced
Any combination of the following add-ins
1 red

and/

or yellow pepper, diced

1 c. of fresh or frozen green beans, cut into bite-size pieces

1 zucchini, sliced into halfmoons

1 c. fresh mushrooms, any variety, sliced
Pantry items
2 Tb.

tomato paste

1

tsp. each of any dry Italian spices you like (oregano, thyme, basil

,

or a combo of these works well

)

1 (28 oz

.) can crushed tomatoes (with basil or fire-roasted

, either one works here

)

4 c. stock of choice (veggie

to keep it vegan, chicken stock

if you've got it)

1 (14 oz

.) can garbanzo beans, drained and rinsed

1 (14oz

.) can cannellini or red kidney beans or both, drained and rinsed
Finishing touches 
Squeeze of lemon -OR- splash of red wine or balsamic vinegar

Fresh flat leaf parsley, about a handful or so, chopped

1 c. or so chopped Lacinato or curly kale

(optional, you can also use baby spinach)

Parmesan

and

/or

c

ooked noodles for serving

Salt and pepper to taste
Preparation
Coat the bottom of a large stock pot with

EVOO

, turn to

medium heat. Add leeks, onions, carrots and celery. Season with salt and pepper and

sauté

until soft and translucent. Add garlic

and

stir until fragrant, about a minute.

Toss in any of the vegetable add-ins and sauté until just cooked through, about 5 minutes.

A

dd dried spices and toast them in the mix

, then stir in

tomato paste

until combined

and heated through, a minute or two.

Add crushed tomatoes and stock,

season with salt and pepper again,

then

simmer

gently

for 20 minutes.

Add beans

,

lemon OR vinegar, and fresh parsley. If using kale

or spinach

, add it now, stir and simmer for

a few

minutes

until

greens

are

wilted

. Taste and adjust seasoning as needed.

Serve with noodles, parmesan.
---
*
Lasagna Soup
Margaret MacKay
     The following recipe has been around in my family for the past 15 years. It's comfort food at its core-pasta, a warm tomato broth, melting mozzarella-but doesn't take as much time to make as a traditional lasagna might. With crusty bread and a crisp salad, this dinner is on your table in 30 minutes. You will not be disappointed!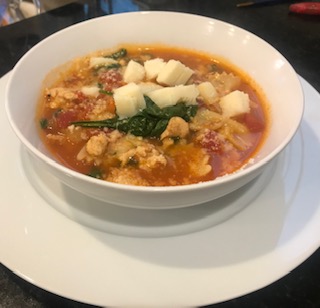 Ingredients
1 lb. Italian turkey sausage-bulk or with casings removed
1½ c. of onion, chopped
1 c. carrots, peeled or unpeeled and diced
2 Tb. garlic, minced
4 c. chicken broth
1 can Italian seasoned petite tomatoes (14.5 oz can)
1 can tomato sauce (10 3/4 oz)
1 c. dry pasta (farfalle, rotini, etc.)
2 c. fresh spinach
1 c. mozzarella or provolone, diced
1/4 c. Parmesan cheese, grated
4 tsp. thinly sliced basil
Preparation
Brown the sausage in a large saucepan over medium-high heat.
Add the onion and carrot and sauté for 3 minutes.
Stir in the garlic and sauté another 3 minutes.
Then add the broth, tomatoes, and tomato sauce and bring to a boil.
Drop in the pasta and simmer until cooked-about 10 minutes (or according to package directions).
Stir in the spinach and cook until wilted-about 2 minutes.
Divide the cheese cubes among four bowls and ladle the soup on top.
Garnish with the Parmesan cheese and basil.
Makes 8 cups–about 4 servings
---
*
Mama's Best Black Bean Chili (slow cooker/vegetarian)
Lisa Levine
I chose this recipe for a few reasons. One is that you only need an onion and a pepper, so the reliance on fresh produce is low. Once I even made it without the pepper… shhhhhhhh! Also, being at home all day this recipe adds so much fragrance to our living space and something to look forward to all day. Plus, it's a crowd pleaser- my whole family will eat it! I hope you enjoy it too!
Lisa is an

Evanston resident, parent, & educator.
Ingredients
1 Tb. olive oil
1 large yellow onion, chopped
1 red pepper, seeded and chopped
spoonful minced garlic
1 Tb. chili powder (or more to taste)
1 (28 oz.) can crushed tomatoes
2 (15.5 oz.) cans black beans, drained and rinsed
1- 4 oz. can diced green chilis
salt and pepper to taste
Optional toppings
chopped onions
shredded cheese
Preparation
Heat the oil in a large pan over medium heat and then add the onion, pepper, and garlic.
Cover and cook about 5 minutes, until just softened. Stir in the chili powder and cook for about 30-60 seconds longer.
Transfer the mixture to your slow cooker. Add the crushed tomatoes, black beans, water, and chilis.
Season with salt and pepper, cover, and cook on LOW for 6-8 hours.
Once ready to serve, put in bowls and offer chopped onions and shredded cheese as toppings. Enjoy!!
---
*
Hearty Tortellini Soup
Karen Bailey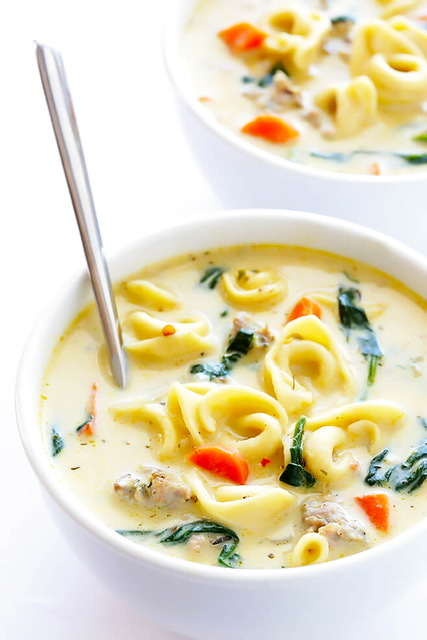 Ingredients
2 cloves crushed garlic
1 Tb. butter
2 cans chicken broth 13 1/2 oz
1 8 oz. refrigerated package of cheese tortellini
1 (10 oz.) frozen package spinach, thawed or not
2 (16 oz.) cans stewed tomatoes, coarsely chopped
1 can Great Northern white beans, drained
Optional: cooked Italian Sausage ( as much as you like)
Preparation
Sauté garlic in butter.
Add the broth and tortellini and cook for 10 minutes.
Add everything else and simmer for 15 min or longer.
Serve topped with Parmesan cheese.


---
*
Sopa De Pollo (Honduran Chicken Soup)
Karina Glover
     Growing up, I would watch my mom make The most delicious food that I've ever eaten in my entire life. Everything she made, she made with love for me and my brothers and sisters and anyone else who entered our house. Of all of the meals that she would make, her sopa de pollo comforted me the most.
Fast forward many years, and I make it with love for my husband and my son and anyone who enters my house. The included picture is the pot of soup which I made as a thank you for everyone who helped us move to Evanston. It was the last meal that we ate before moving up here to start a new adventure.
Enjoy!
Ingredients
1 Tb. olive oil
1 onion, chopped
2 celery stalks, chopped
1 (15 oz.) can diced tomatoes, drained and rinsed
1/2 bag of baby carrots, chopped
1 packet of Sazón Goya
2 tsp. adobo seasoning
2 tsp. salt
2 lbs. chicken, chopped into bite sized pieces
32 oz.  chicken broth
1 yucca root, chopped in ~2" segments, and cut in half
5 small potatoes
8 oz. frozen corn, or a few cobs of corn
2 zucchini, cut into 1/2" rings
1 bunch of cilantro
1 tsp. Tapatio
Preparation
Sauté the first five ingredients until the veggies are cooked down.
Add sazón, adobo, and salt. cook until fragrant.
Add chicken and brown.
Once meat is browned, add broth. Stir and let come to a boil.
reduce heat and simmer for about 15 minutes.
Add potatoes and yucca.
Bring back to boil then lower to simmer for 15 minutes.
Add the corn, zucchini, cilantro, & Tapatio (taste to make sure there is enough seasoning) and let it simmer for 5 more minutes.
Serve over fresh rice.
---
*
Lentil Soup
Jessica Carravallah & Ivan Home
     This is our favorite comfort food. Ivan likes it served over pasta, the Italian way. Jessica likes it with crusty (preferably homemade) bread to dip in it. It is good on cold rainy Midwestern days.
Serves 4-6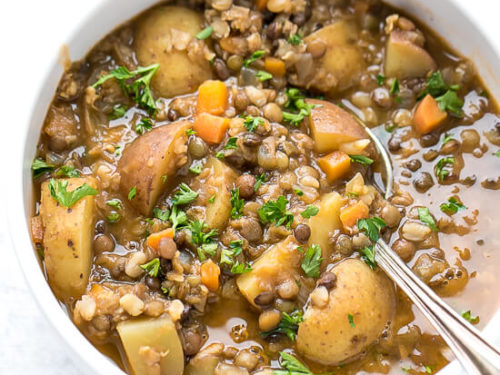 Ingredients
1-2 tsp. oil
1 onion, diced
2 carrots, chopped
2-3 stalks celery, diced
1 c. cubed potatoes (optional)
1/2 Tb. salt
2 tsp. pepper
3-4 cloves garlic (or more!)
1 lb. lentils
8-10 cups vegetable or chicken broth (You can also replace 2 cups of liquid with 1 can of diced tomatoes for more flavor)
2-3 tablespoons total of any combination of spices: oregano, sage, rosemary, and/or a soup/vegetable pre-mixed spice blend, or whatever flavors you like in soup
1 tsp paprika or turmeric, optional
1 – 1½ c. spinach or kale, chopped (optional)
Squeeze of lemon or splash of vinegar (optional)
Preparation
Heat the oil in a soup pot.
Over medium/low heat, add onions, carrots, and celery. Cook until the onions are translucent.
Add the potatoes (if including) and garlic, and let heat until you can smell the garlic, about 1-2 minutes.
Add the salt,

pepper, and the spices you are using and stir. Do not be stingy with the spices or salt; there is not a lot of flavor in lentils without them

.
Add the liquid. You'll need to add more if you

are including the potatoes, and if you want a more liquidy soup. Less liquid will make it thicker.

Bring to a boil,

then lower the heat to a simmer and let simmer for about 45 minutes, until the carrots (and potatoes) are cooked through

.
You can eat it at this point,

or if you want to thicken the soup, take the lid off and let simmer for another 20-30 minutes. If using spinach or kale, stir them in here.

Let it cool

for at least 20 minutes before serving. The longer it sits the better the flavor is; including after being refrigerated as leftovers, so make sure you leave enough to eat the next day.

Serve with

pasta, or bread. Squeeze in a wedge of lemon or a splash of vinegar, especially if you are eating it the next day.
---