9

Chapter 9 – Vegetarian Dishes

Baked Sweet potatoes with cottage cheese or garlic yogurt
Ratatouille
From Jean V. Demas
     A very versatile dish-serve as an entree or side dish.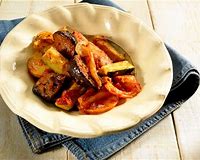 Ingredients
1 lb. green beans,

ends and strings removed and cut into 2 inch pieces

1 lb. eggplant,

cut into small pieces

1/2 lb. mushrooms, cleaned, stemmed and sliced

1 large green pepper, seeded and cut into strips

1 lb. potatoes, peeled cut into small pieces

1 lb. broccoli, florets cut into small pieces

1 large onion, peeled and thinly sliced into half rounds

28 oz. can peeled tomatoes

salt and pepper to taste

1/2 c. olive oil

chopped parsley
Preparation
In a large bowl combine the vegetables.
Add the salt, pepper, olive oil, and peeled tomatoes and stir so that all the vegetables are covered in tomato and olive oil.
Transfer to a large baking pan and cover with aluminum foil.
Bake at 350 degrees for 2 hours. Every half hour uncover and stir the vegetables. If dry, add a bit of water.
Serve hot, room temperature or cold. Serves 6-8.
---
*
Masoor Dal-Indian Red Lentils
Shruti Vijay
     Here is my recipe for Masoor Dal- Indian red Lentils. I have been making this dish a lot these days for my family who is at home because of COVID 19. This recipe is very nutritious, easy to make and requires less ingredients. Its perfect for cold grey days and instantly provides warmth to your soul with its simple flavorful flavors. It can be made in bulk and eaten for a couple of days. I got all the ingredients from Trader Joes in Evanston.It can be eaten with plain rice, naan or can be had even as a soup. My daughter who is a picky eater likes to eat it with naan or pita bread. I hope you can enjoy this recipe with your family.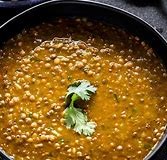 Ingredients
2 Tb. vegetable oil
1 c. finely chopped onion
1 Tb. minced ginger
2 garlic cloves, minced
1 c. red lentils
2 tsp. ground cumin
2 tsp. turmeric
salt to taste
3 Tb. chopped cilantro
juice of 1/2 lime
Preparation
In a large saucepan over medium-low heat, heat the oil, add the onions and sauté until softened.  Add the minced ginger and garlic; stir, and reduce the heat to low.
Add the lentils, cumin and turmeric to the pan. Stir until the lentils are well coated with oil. Add 4 cups water.
Bring to a boil, then reduce the heat until the mixture is at a fast simmer. Cook uncovered until lentils are soft, stirring occasionally, about 25 minutes.
Season to taste with salt, and continue to simmer until the mixture has thickened, about 10 minutes. If the dal is too soupy, increase the heat and cook for a little longer.
Add the chopped cilantro and lime juice. Stir well and switch off the heat.
 Serve hot with rice, naan or pita. You can also enjoy it as a soup.
---
*
Beets

'

N

'

Sweets
From Pat Dicke
     We used to make this whenever family came to visit when we lived in Erie PA. It was always a big hit!
Ingredients
6 medium beets, peeled and cut into chunks, OR 1 can of whole beets

2 medium sweet potatoes, peeled and cut

into chun

ks

1 large

sweet onion, chopped (optional)

1 tsp. garlic powder

1 tsp. each of salt and pe

pper

½

tsp. sugar

½

Tb.

o

live oil (for fresh beets)

2 Tb. olive o

il (for the seasoning mixture)
Preparation
Preheat oven to 400º.
For fresh beets
T

oss the beets

w

ith

½

tablespoon

o

live oil

to coat. Then spread them

i

n

a single layer on a

baking sheet and bake for

15 minutes.

Meanwhile, mix

2 tablespoons olive oil with the seasonings.

Coat the potat

oes and onions with the seasoning mixture

, add to the cooked beets

and mix

.

Ba

ke another 20 minutes o

r until the vegetables are tender.
For canned beets 
M

ix

2 tablespoons olive oil with the seasonings.

Coat the potat

oes

,

onions

,

and beets with the seasoning mixture.

Spread the vegetables in single layer on a baking sheet.

Bake for 20

minutes o

r until the vegetables are tender.
---
*
Great Tomato Pie
Trish Barr
     As soon as the fresh ripe tomatoes arrive at the Evanston Farmers' Market, I buy enough to bake this pie. It's so tasty and reminds me of growing up in Wisconsin. We always had a large garden and LOTS of tomato plants.
Ingredients
a 9-inch pie shell, baked
2 Tb. Dijon mustard
4 large tomatoes, peeled and sliced
Salt and freshly ground pepper
4 oz. white cheddar cheese, grated
4 oz. sharp cheddar cheese, grated
½ c. mayonnaise
½ c. freshly grated Parmesan cheese
Preparation
Preheat the oven to 350º.

Spread the baked pie crust with the Dijon mustard.

Layer the sliced tomatoes onto the mustard.
Add salt and pepper.
Add the white and sharp cheddar cheeses.

In a small bowl, mix together the mayonnaise and the grated Parmesan cheese.

Spread this mixture on top of the pie.
Bake for 20 minutes or until bubbly.
Let cool. Best served at room temperature.
---
*
Meatless Meatballs
Jennifer Shreve
     In 1993, I graduated from college and moved to Evanston.  It was my first apartment, first kitchen, and my first time cooking for myself and my boyfriend.  He was vegetarian when we met, and this is one of the first recipes I started cooking for him.  Over 25 years later, we're married, living again in Evanston after many years away, still vegetarian (mostly), and this recipe is our son's favorite meal.
Ingredients
3 c. cracker crumbs from Ritz or Town House style crackers
3/4 c. finely chopped walnuts
3/4 c. finely chopped pecans
1 ½ c. shredded mozzarella cheese
4 eggs
1 clove garlic
2 tsp. sage
1 tsp. dried parsley
1 tsp. salt
4 c. (one 36 oz. jar) of your favorite pasta sauce
olive oil or canola oil for frying
Preparation
Simmer the pasta sauce in a large saucepan on the stove top.
Crumble the crackers to create crumbs and chop the nuts.  Both the cracker crumbs and nuts can be chopped either in a food processor or by hand.
Mix together all of the ingredients except the pasta sauce and the oil. The mixture should stick together but not be too loose. Use an additional egg if the mixture is too dry, or more cracker crumbs if it is too wet.
Shape the mixture into balls and place them on a plate, ready for the frying pan.
Heat the oil over medium-high heat.  Place the meatballs in the pan and fry, turning to cook all sides evenly.  Alternatively, flatten the balls before you put them in the pan, so that they cook evenly on both sides.  Cook in batches if they don't all fit into the pan at one time.
When all the sides are brown and crispy, take the meatballs out of the frying pan and place directly into the pasta sauce, so that they can sit and absorb the flavor of the sauce.  This is one of those meals that tastes better the longer the flavors meld, so it's even better as leftovers.
Makes roughly 15 meatballs; each serving is 2-4 meatballs.
---
*
Baked Sweet Potatoes with Cottage Cheese or Garlic Yogurt
Patricia Vaughan Tremmel
     This is such a simple recipe that gives me great joy. The nutrients in sweet potatoes are so plentiful,  and the the cottage cheese or yogurt on the side provide nice protein.
Ingredients
sweet potatoes
cottage cheese OR yogurt and garlic
Preparation
Preheat the oven to 425º.
Wash the sweet potatoes and pierce with a fork
Place the potatoes in a pan lined with tin foil (the yummy caramelization of the potatoes can really muck up a pan).
Bake the potatoes for around an hour and a half (cooking time will vary depending on your oven and on how soft you like your sweet potatoes).
When the potatoes are ready, just put a big scoop of cottage cheese on the side of the plate with the sweet potato. I like to take a forkful of cottage cheese with each bite of the potato. Or you can make garlic yogurt by mincing several cloves of garlic and mixing them with a small container of plain yogurt to make a sauce.
Note: I usually make extra potatoes, which I heat up later in  the microwave.
So comforting, always!!!!
---
*
White Beans, Tomato and Cheese Casserole (adapted from NYT Cooking)
Margaret Lurie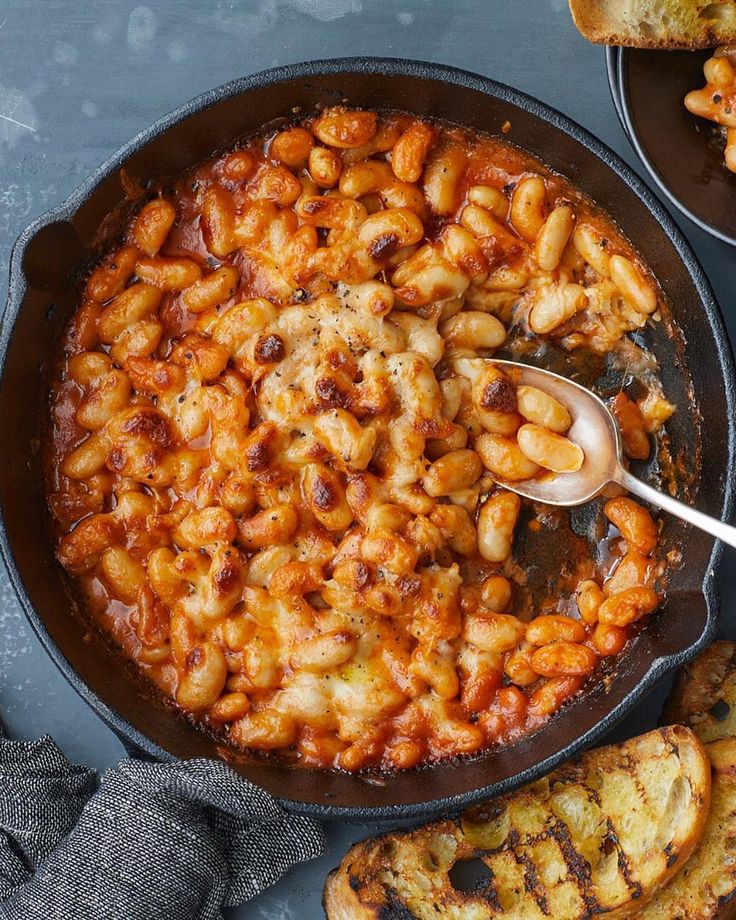 Yield: 4 servings
Time: 15 minutes
Ingredients
1/4 c. extra-virgin olive oil
3 fat garlic cloves, thinly sliced
1 yellow onion, diced
1 small can tomato paste
2 (15 oz.) cans white beans (such as cannellini or Great Northern) or chickpeas, drained and rinsed in a cup of boiling water
Kosher salt and black pepper
Handful fresh spinach
Cheddar cheese, coarsely grated (about 1-1/3 c.)
Preparation
Heat the oven to 475º.
In a 10-inch ovenproof skillet, heat the olive oil over medium-high heat.
Fry the garlic and the onion until it's lightly golden, about 1 minute.
Stir in the tomato paste (be careful of splattering) and fry for 30 seconds, reducing the heat as needed to prevent the garlic from burning.
Add the beans, water and generous pinches of salt and pepper and stir to combine.
Add the fresh spinach.
Sprinkle the cheese evenly over the top, then bake until the cheese has melted and browned in spots, 5 to 10 minutes.
If the top is not as toasted as you'd like, run the skillet under the broiler for a minute or 2. Serve at once.
---
*
Wild Rice & Mushroom Veggie Burgers
Chef Sarah Stegner, Prairie Grass Café
     Sarah Stegner grew up in Evanston, graduating from Orrington School, ETHS and then did attend NU for a time in classical guitar before taking a huge jump into being a Chef. She was the name chef at the Ritz Carlton Dining Room for many years and won the James Beard award for Rising YOung Chef (not sure which year). She's owned Praire Grass Cafe in Northbrook with George Bumbaris her partner also from the Ritz Carlton for 16 years. She is also a co – founder of the Green City Market in Chicago.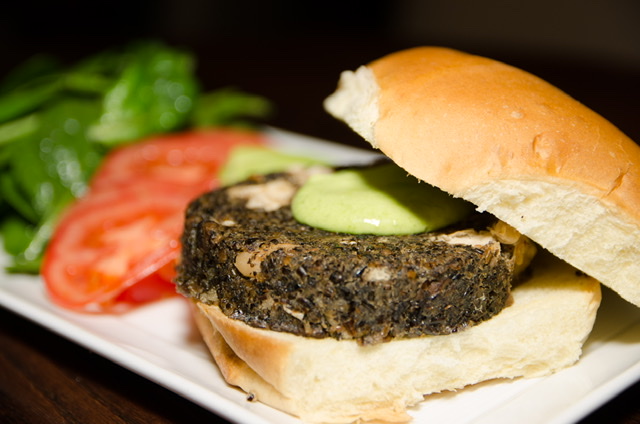 Makes 4 burgers
Ingredients
3 c. cooked wild rice (still warm)
½ c. cooked white beans
½ c. finely chopped cooked mushrooms
1 small head of roasted garlic, pureed
Sea salt
Preparation
Put the cooked wild rice in the bowl of a food processor while it is still warm.  Process it until it forms a ball and is starchy.
Remove the rice from the processor and combine it with the beans, the mushrooms, the garlic and a pinch of sea salt.
Mix well and form into 4 evenly divided patties. Press the patties so they are firm.
You can sauté the burgers in olive oil or put them in a hot oven and allow them to get crispy on the outside.
---