Shakshukah
Lindsay Levine and Maor Krush
     This recipe is from my partner – he's from Israel, where shakshukah is a cozy staple breakfast dish. We love making shakshukah for friends and especially during the cold Evanston winters.
Ingredients for 2 servings
4 eggs
1 can diced tomatoes, or 3-4 fresh tomatoes, finely chopped
½  large onion, chopped
1-2 garlic cloves, chopped
1 tsp. of Harissa or other spicy sauce, or a jalapeño or chili pepper
Pinch of salt
Pinch of black pepper
Pinch of paprika (optional)
Soft bread (Challah is preferred for this dish)
Vegetable or regular olive oil
Pinch of paprika (optional)
½ -1 bell pepper (optional)
Preparation
Heat the pan with oil on high heat. Once the oil is hot add the salt, black pepper, and paprika (optional). Let the spices cook for a minute.
Add and sauté the chopped onions. Let them cook for a minute.
If using peppers, add them now, whether that's bell peppers/ chili/ etc. Once the peppers have cooked for a while add the chopped garlic.
After a minute or so add the tomatoes. Stir together.
Cook until the tomatoes are soft and liquidy. If using fresh tomatoes, chop them finely before (but note that this will take longer to cook).
Add the spicy sauce and mix evenly.
Turn the heat down to medium-low and with a spatula create an indentation in the mixture for each egg.
Crack the eggs into the indentations. Cover the pan and let it cool until the egg is to your liking, whether poached or hard boiled, but don't overcook.
Enjoy with challah or a different kind of soft bread!
---
Frosted Creams
     This is a great, not too sweet cake for breakfast, or any time you need a treat. This recipe comes from the 1911 Lake Geneva, Wisconsin Congregational Church cookbook. It was given to my mother by my grandmother.  It is my comfort food filled with happy childhood memories.
Ingredients
1 c. sugar
1/2 c. butter
1/2 c. molasses (light or dark)
1 tsp. baking soda
1/2 c. whole milk
2 eggs
3 c. flour
1 tsp. salt
Preparation
Beat sugar and butter until light and creamy.
Add molasses, milk and eggs. Mix well.
Add flour mixed with baking soda and salt slowly and mix well.
Spread into a jelly roll pan. Bake for about 15 minutes. Don't overcook!
When cool, frost with a confectioner's sugar frosting of milk/cream, powdered sugar and vanilla.
---
*
Homemade Granola
Anita Opdycke
     We have been baking up a storm while self-isolating/distancing. Mostly "fails" but we hit jackpot last weekend with homemade granola. Recipe adapted from a variety of places.
     This recipe was special because we made it together, adapted the ingredients, didn't measure and laughed a lot. It was a special time with two little, special humans who are learning to cook/bake. We have been reading The Little Red Hen given to us by our "Amie" (grandmother). The story sparked Harley and Liam's interest in baking. They were eager to help make the granola so they could help eat the granola!
Ingredients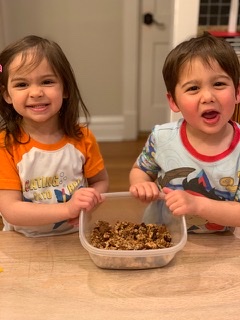 2 c. gluten free oats
½ c. chopped pecans
½ c. chopped walnuts
½ c. slivered almonds
A generous pour of chia seeds
A generous pour of hemp seeds
A handful of sunflower seeds
½ tsp. salt (used pink sea salt)
1/3 c. coconut oil
1/3 c. raw honey
½ tsp. vanilla extract
Note: Add in coconut sugar or a little more honey if you want a sweeter granola. We added a generous dash of coconut sugar.
Preparation
Mix all of the dry ingredients together.
On low heat, mix the coconut oil, raw honey, and vanilla extract.
I added a ½ tsp of cinnamon (can also use pumpkin spice or cardamom)
Once incorporated, mix/fold in the wet ingredients with the dry ingredients.
Lay on parchment paper on a cookie sheet and bake 300 degrees (preheat the oven) for 30 minutes.
Let cool for at least 30 minutes and then break apart.
Optional adds in: we put in chopped dates and dried cherries. You can also use raisins, chocolate chips, any dried fruit.
---
*
Cheese Pancakes
Claire Leven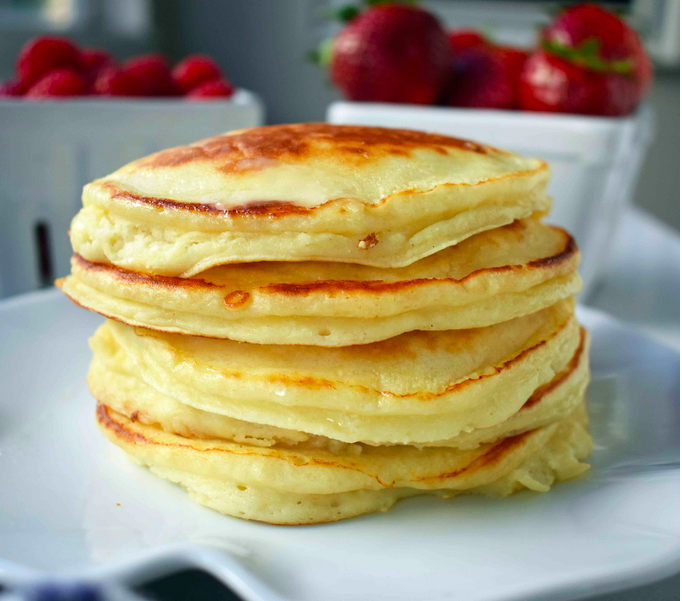 Ingredients
6  large eggs
1/4 c.  sugar
1/2 tsp. vanilla
1 c. all-purpose flour
1/2 tsp. baking powder
1/8 tsp. salt
2 lbs. ricotta cheese
1/2 c. whole milk
1 c. raisins (toss & coat w/flour)
Preparation
Mix eggs, milk, vanilla, sugar and cheese together.
Mix flour, baking powder, and salt together.
Mix 1 & 2 together and stir in the raisins.
Use 1/4 c. batter for each pancake.
Set burner on stove to between low & medium/low.
Saute in vegetable oil till lightly browned
Turn over to do the other side.
Place on paper towels to drain.
Serve with sour cream.
---
*
Broccoli and Cheese Strata
Karen McCormick
      I've been making this recipe for Christmas brunch for many years. Delicious recipe to prepare the night before, then pop in the oven to cook while you're opening presents.
Ingredients
5 c. cubed French bread
10 eggs
4 c. milk
1 tsp. dried mustard
1 tsp. salt
1/2 c. broccoli flowerets
1/2 c. cooked and quartered red skin potatoes
1/2 c. cubed ham, cooked crumbled bacon, or cubed cooked turkey (optional)
1/2 c. diced red pepper, sautéed
2 c. grated sharp cheddar cheese
Preparation
Butter a 9 x 13 inch baking dish.
Place the bread cubes in the dish and top with the vegetables, ham or bacon, and grated cheese.
In a large bowl beat the eggs and whisk in the milk, mustard and salt. Pour over the bread and vegetables in the dish.
Fold it in slightly to mix in the vegetables and meat.
Cover and chill up to 24 hours to let it soak up the egg/milk mixture.
When ready to bake, preheat the oven to 350 degrees, uncover the dish and bake for one hour.
Tent with foil if the dish is browning too quickly. Serve immediately.
---
*
Mom's Crepe Recipe
Virginia Kalensky
     I love to cook and bake. This is my mother's recipe and when my Mother passed I continued making them for my dad and later my husband.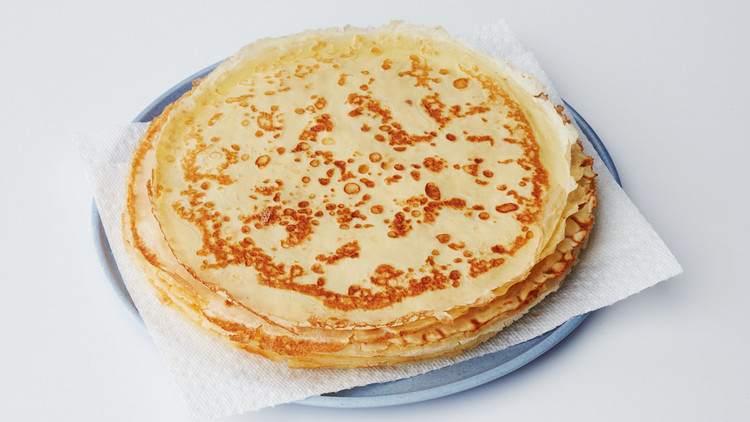 Ingredients
5 eggs
1 Tb. sugar
1¼ c. flour
1¼ c. milk
½ tsp. vanilla
Preparation
Preheat the oven to 170 degrees.
In a medium bowl whisk the eggs slightly.
Add all the remaining ingredients and mix until smooth.
Heat a greased crepe or 7 – 8 inch pan over medium high heat until it smokes slightly.
Pour ¼ cup of batter into the hot pan and immediately tilt the pan until the batter completely covers the bottom
Cook until the edges start to dry and the center is set.
Gently flip over and continue cooking until the crepe is light brown.
Place the cooked crepe on a baking sheet and place them in the preheated oven to keep warm until ready to eat.
When ready to eat, fill the finished crepes with jelly, fruit, yogurt, cottage cheese, or any kind of fresh berries.
Savory Crepes
To make savory crepes, omit the sugar and vanilla and replace with dried or fresh herbs and your favorite sauce instead. You can fill them with sautéd veggies; fresh mozzarella, tomato, and basil; ham and cheese; pesto and chicken; or sausage with apples.
This recipe makes a good sized batch. If you have any left over, you can refrigerate them in a zip lock bag layered with parchment or wax paper. Alternatively you can freeze them for one to two months.Experiment with the recipe and practice. I promise, it gets easier every time you make them. Just be sure they are THIN as they are then easier to roll.
Enjoy. Bon Appetit!
---
*
Sweet Potato & Banana Pancakes
Anonymous
If Comfort Food helps you through stressful times, these two-bite tastes of joy will even allow you to rationalize away any feelings of guilt because they are gluten-free.
Ingredients
2 eggs
1 very ripe banana
 ½ c. cooked and mashed sweet potato
butter for pan (or cooking spray, if preferred)
 1 tsp. vanilla extract
Preparation
Mash the ripe banana (the riper, the sweeter).
Add in the mashed sweet potato and mix well.
Add in eggs and mix well.
Melt some butter in the pan (or, use non-stick spray) pan.
Cook silver dollar size pancakes until they firm up or start to bubble and then flip them.
The banana will caramelize and appear black without burning. Remove the pancakes from the pan when they are done to your liking.
Taste these before adding any toppings. If you wish, try topping these with maple syrup, honey or your favorite fruit jam.
---
*
Spinach Frittata (for breakfast or brunch) 
Cynthia Barnes Slater
     For years, as a California native, this dish was my family's "go-to" Saturday or Sunday brunch meal.  During the winters here in Evanston I cook it a lot because it reminds me of home. It's colorful, a great way to get your "greens," and can be adjusted upwards for a crowd (post COVID 19) or split into half for one person to save for another meal – it also tastes good reheated.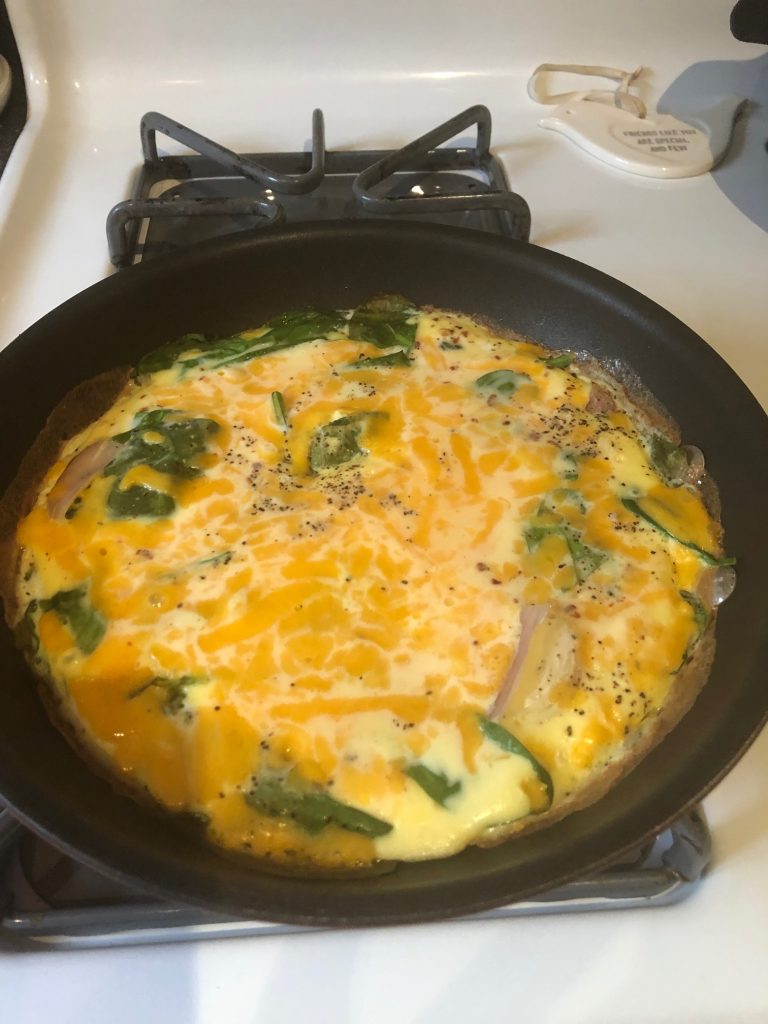 Ingredients
1 Tb. olive oil or butter
3 large eggs
1/2 bag/container raw baby spinach
1/2 tsp. each salt and pepper (to taste)
2 Tb. chopped red onion
2 Tb. chopped red pepper
2 minced garlic cloves
1/4 c. half & half
1/4 c. grated sharp cheddar cheese
Preparation
Pre-heat broiler to 450 degrees.
Heat a 10 inch nonstick skillet over a medium high flame, then add oil or butter and heat until it sizzles.
While the pan is heating, whisk together the eggs, half & half, salt and pepper, and set aside.
Add the chopped onion, red pepper and garlic to the hot pan and sauté for 2-3 minutes.
Place the raw spinach in a single layer on top of the sautéed vegetables already in the pan, and sauté until the spinach is wilted, for about 2-3 minutes.
Add the egg mixture, making sure to cover the spinach, reduce the heat to a low flame, and cook until the eggs are set; about 3-4 minutes.
Sprinkle the grated cheddar evenly over the top, enough to cover, and place the pan under the degree broiler

to finish

, broiling until the cheese is bubbly; about 2 minutes.
Serve immediately, with a slice of crusty sourdough toast, and a mug of coffee. Serves 2
---
*
Homemade Gravlax (adapted from Ina Garten's recipe)
Submitted by Allison Lavey & Beth Anne Scharle
(Prepare 2 days in advance of serving)
     This recipe is a template for homemade salmon gravlax ("lox"). It can be altered and adjusted according to your taste preferences. We love this dish because it's so easy to make at home but really "wows" at a brunch party or work breakfast! We moved to Evanston from NYC, and this dish helps us bring a taste of New York to our new home in Illinois. Served best with bagels, schmear, tomato and red onion slices, extra fresh dill, capers, and some lemon wedges!
Ingredients
3 lbs. fresh salmon, center cut
1 large bunch of fresh dill (reserve 1/4 cup chopped dill for serving) – dried dill can also be used in place of fresh dill.
1/2 c. kosher salt
1/2 c. sugar
2 Tb. peppercorns, crushed (white, black, or pink to your preference)
OPTIONAL: 1 Tb. whole fennel seeds, coriander, and/or lemon zest
Preparation
Line the inside of a deep dish with saran wrap, leaving plenty of excess for wrapping.
Cut the salmon in half crosswise. Place half the fish skin side down in a deep dish on top of the saran wrap.
Combine the salt, sugar, crushed peppercorns, and (optional) fennel seeds and lemon zest in a small bowl. If using dried dill, combine with the mixture at this step.
Sprinkle half of the spice mixture liberally all over the piece of fish, including on the sides. Top with fresh dill. Repeat with other half of salmon, then sandwich the two pieces together (pink sides touching). Try to minimize the amount of mixture lost when creating the sandwich – you will have to move quickly!
Tightly wrap the sandwiched pieces of salmon together with the saran wrap. Cover several times, securing any loose mixture in the wrap. Place wrapped salmon back in the deep dish.
On top of the salmon sandwich, place heavy weights that can be refrigerated. For example: a cast-iron pan, cans, weights, or even heavy books.
Refrigerate the salmon for about 48 hours, turning it every 12 hours. Discard liquid that accumulates in the dish as it cures. The amount of curing time will vary depending on thickness of fish and heaviness of weights. Check on it frequently by unwrapping it and touching the flesh. When fully cured, the flesh will feel firm and indent only slightly. You want to cure it until this point — not until it is super firm! If using less than 3 lbs of salmon, it may be ready sooner.
Once the cure is complete, rinse excess mixture and dill off of the salmon haves. Pat dry. Slice into thin pieces with a sharp knife for serving; we recommend cutting on the diagonal.
Squeeze fresh lemon juice on top and sprinkle with fresh dill before serving. Enjoy!


---
*
Egg Cheese Puffs
Barbara Bradford
     Egg-Cheese Puffs have been a family comfort food for at least 45 years.  The recipe was originally given to me by a neighbor at the Naval Post Graduate school in Monterey, California, where our husbands were stationed around the time of the Bicentennial. I have made this casserole for breakfast, brunch, lunch, and dinner in homes all across the country and in three foreign countries,  I have shared it so many times that I finally saved a copy in a computer file so that I could print it out quickly.
     Leftovers, if there are any, freeze well, and the recipe can be cut in half and baked in an 8 x 8 inch baking dish.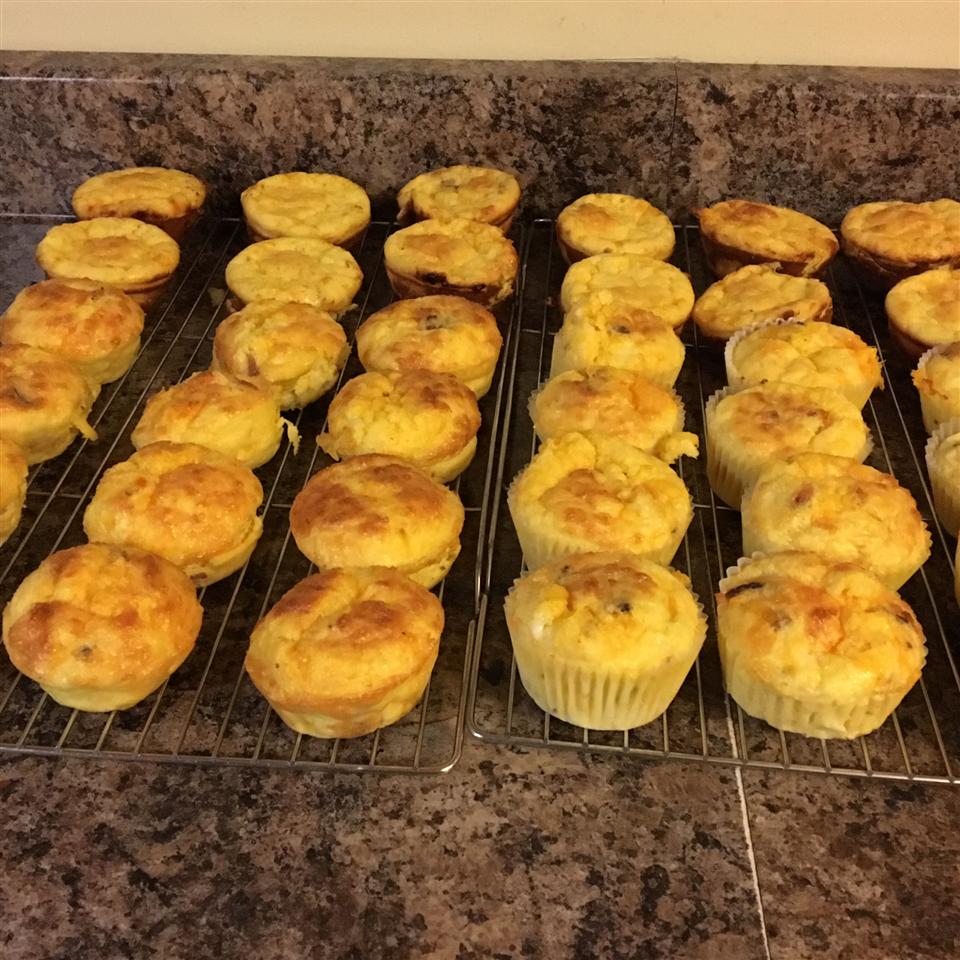 Ingredients
10 eggs

1/2 c. flour

1 pint small curd cottage cheese

1 lb. shredded jack

(or other)

cheese

¼ c. melted butter

1 tsp. baking powder
Preparation
Beat the eggs and then add the other ingredients.  

Pour the mixture into a greased 9×13 inch baking dish.  

Bake at 350º for 35 minutes or until firm.  

Cut into 12 servings.  
Good additions include:
1.  crumbled cooked bacon, about 1 pound

2.  crumbled cooked pork sausage, about 1 pound

3.  minced ham, 1-2 cups

4.  one 3 oz can of diced green chili peppers–top each serving

​

with salsa and serve with slices of avocado
About 275 calories per serving.  (3 proteins + 1 fat)
---
*
Special Coffee Cake
Gini and Olivia Ohlson
One of our family favorites!
Ingredients for the Topping
1 c. flour
1/2 c. sugar
1/4 c. butter
Ingredients for the Batter
1 stick butter (1/2 c.)
1 c. sugar
2 eggs
2 c. flour
1 tsp. baking powder
1 tsp. baking soda
1 tsp. vanilla
1 small carton sour cream
Ingredients for the Frosting
2 Tb. hot milk
1 c. powdered sugar
food coloring
Pre-heat the oven to 350º.
Combine topping ingredients in one bowl and set aside. The mixture will look a little dry and crumbly but that's okay.
In a second bowl cream the butter, sugar and eggs.
Add the dry ingredients and mix well.
Add the sour cream and vanilla. Mix well.
Grease and flour a 10 x 15 inch sheet pan. Spread batter in the pan. It will be a bit sticky but that's okay.
Sprinkle the topping over the batter.
Bake at 350º for 15-25 minutes depending on your oven however check the cake after 15 minutes. The final cake should be firm and golden with crumbles.
To make the frosting, mix the hot milk with the powdered sugar with a few drops of food coloring to add color and fun. You can match it to whatever holiday is current.
After the coffee cake has cooled, drizzle it with frosting. Let cool further, cut and serve.
---