8

Chapter 8 – Side Dishes
Corn Bake
Nancy Crane
     Nancy Crane is a North Branch volunteer.
Ingredients
1  large can whole kernel corn – undrained
1  large can cream-style corn
2 eggs
1  box Jiffy Corn Muffin Mix
8 oz. sour cream
¾ to 1 stick butter
½ to 1 onion, chopped
Preparation
Mix all the ingredients together and pour into a 9 x 13 inch greased baking pan.
Bake 30-40 minutes at 350º.
---
*
Sesame Noodles
Sean Blitzstein
     Why this recipe? It's easy, quick (as fast as it takes to make pasta), tasty, and always a crowd-pleaser. It's been brought to many Northshore/Evanston functions, including numerous dinners, pot-lucks, July 4th parties, cook-outs, block parties, cast parties (for community theatre productions), and Ravinia performances. It's garlicky, spicy, and just plain satisfying!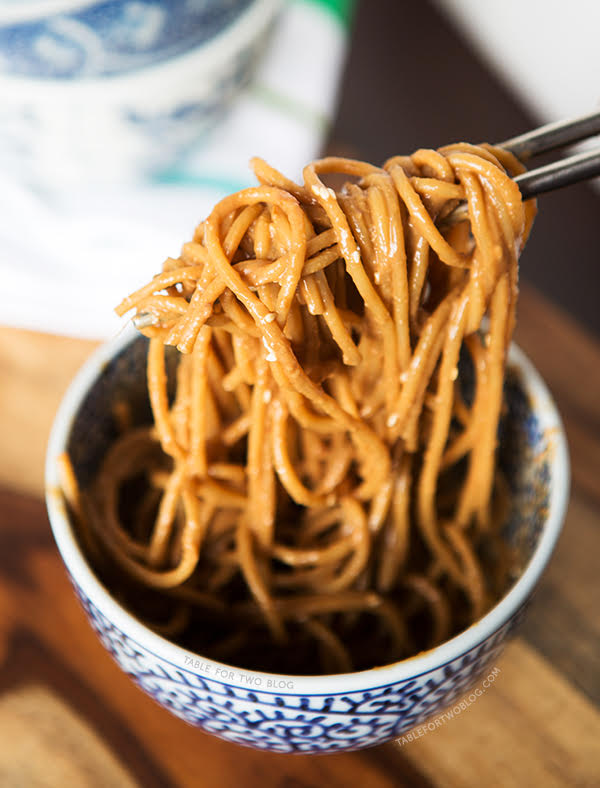 Ingredients
1 lb. noodles (e.g., linguini, thin spaghetti, Asian noodles)
¼ c. olive oil (preferably extra virgin)
¼ c. toasted sesame oil
¼ c. soy sauce
2 tsp. red pepper flakes
4 garlic cloves, pressed
4 Tb. toasted sesame seeds (place seeds in medium, non-stick skillet and cook over medium heat for approximately 5 minutes until golden/light brown, making sure to shake the skillet frequently to prevent burning)
Directions
Cook the noodles according to the package directions. Drain well, rinse with cold water, and drain again. Put in a large bowl.
While the noodles cook, place the next five ingredients (olive oil through garlic) into a small to medium sized bowl and whisk vigorously until fully mixed. Taste and adjust seasonings as desired.
Add the sauce to the noodles and mix thoroughly.
Serve chilled or at room temperature. To serve, place on a large dish, bowl, or platter, and sprinkle with toasted sesame seeds.
---
*
Can't Miss Mac N' Cheese
Ingredients
1 lb. elbow macaroni (or any noodle of your choice)
1 egg
1 c. half/half (or whole milk)
2 c. shredded mozzarella
2 c. shredded Colby Jack cheese
2 c. shredded sharp cheddar
1 stick of butter (½ c.)
½ tsp. salt
¼ tsp. pepper
Preparation
Pre-heat the oven to 350º.
Boil the noodles in a large pot according to the package directions, drain, and return the noodles to the pot.
Beat the eggs with the half/half and set aside.
Add the butter, salt, and pepper to the noodles in the pot and stir to combine until the butter is melted.
Add the egg mixture, followed by the cheeses (with the exception of 1/2 cup of Colby Jack) and stir until combined.
Pour the noodle mixture into a greased 9 x 12 baking pan and top with the remaining Colby Jack cheese. Cover the dish with aluminum foil and bake 20 minutes, or until a knife poked in the center returns clean.
Remove the  foil covering and continue baking 10 minutes, or until the cheese is bubbly and brown.
Serve warm and prepare to be greeted with the "oohs and ahhs" of your friends and family. Enjoy!
---
*
Aunt Mary's Kugel
Barbara Levie
     Kugel is an Eastern European Jewish delicacy that is comparable to a noodle charlotte, a.k.a noodle casserole. Some versions are very sweet with the addition of raisins, apple slices or other fruits and more sugar. These are often served as brunch side dishes to go along with your lox and bagels. Other versions, like mine, are slightly sweet and are typically served as a carb side with a dinner entree. There are no strict rules, eat it when the need strikes you. There are tons of variations you can find online, but rest assured, if made with the usual ingredients, which may include eggs (many), butter, cream cheese, milk, sour cream, (did I say butter?), they are all rich and fattening…and hugely comforting.
     Now, how does one pronounce "kugel?" It's one of the more difficult words to get right if you don't know any Yiddish. It's not koogle (as in Google), it's not bugle like the horn, it's not juggle. The "u" sound is the same sound you'd make if you're trying to open a tight pickle jar and you need to make some sort of noise with the effort. Kind of like a short exhalation "uh." So add the "k" then "uh" then "gle." The accent is on the first syllable.
Aunt Mary never let anyone else mix in.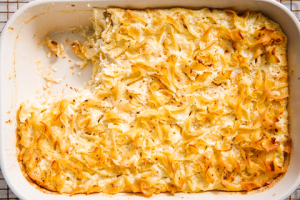 Ingredients
8 oz. wide egg noodles*
1 stick (½ c.) butter or margarine, melted
6 oz. cream cheese, melted
1 c. milk
4 eggs, well beaten
¼ c. sugar
bread crumbs as topping, to taste
brown sugar as topping, to taste
*Most packages of wide noodles come in either 12 or 16-oz. sizes. You can adjust the amount of milk, eggs and sugar for a larger amount of noodles and use a standard 9 x 13-inch baking dish if using the larger amount. Good luck.
Preparation
Pre-heat the oven to 350º.

Cook the egg noodles according to package directions. Drain.
In a very large bowl, mix the melted butter and cream cheese. Mix in the sugar, beaten eggs and milk.
Carefully add the cooked, drained noodles, and gently toss so they are well-coated with the liquid mixture.
Pour into a greased 10-inch baking pan (I use a square white Corning Ware one).
Top with bread crumbs and brown sugar to taste. The more you use, the crunchier the top will be and also a little sweeter.
Bake, uncovered, for 45-60 minutes. (I check for doneness starting at 45 minutes because my oven runs a little hot).
The Kugel is done when the top is nicely browned and a knife inserted into the middle comes out clean. Let cool, then EAT!
---
*
Corn Pudding (adapted from Paul Prudhomme)
Sara Marberry
     I've always loved corn and found this simple recipe years ago in a Paul Prudhomme cookbook. I usually only make it around the November and December holidays. Not only does my family love it, but it's a favorite of the Evanston-based Wesley Writers Workshop taught by notable writers Sharon and Steve Fiffer, of which I am a proud participant.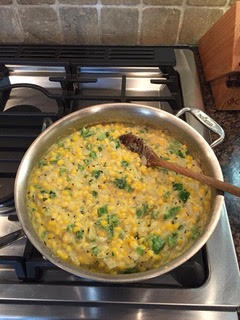 Ingredients
Seasoning mix
1 ½ tsp. Kosher salt
1 tsp. white pepper
1 tsp. garlic powder
1 tsp. dried sweet basil leaves
½ tsp. freshly ground black pepper
½ tsp. onion powder
Other ingredients
5 Tb. unsalted butter
1 ½ c. chopped onions
1 c. chopped green peppers
4 c. fresh or frozen corn (if using frozen, defrost by running warm water over the corn in a colander)
½ c. yellow cornmeal
1 c. low-fat evaporated milk (can use regular if you want more "fat" flavor!)
1 ½ c. low-fat milk (can use 2% if you want more "fat" flavor!)
4 eggs
Cooking spray
Preparation
Preheat oven to 350 degrees.  Combine the seasoning mix ingredients thoroughly in a small bowl.
Melt the butter in a 10-inch skillet over high heat.  When the butter is sizzling, add the onions and green pepper.  Cook, stirring, until the vegetables are soft, about 4 minutes.
Stir in the seasoning mix and cook, stirring once, until a light crust forms on the bottom of the skillet, about 4 minutes.
Add the corn, scrape the bottom of the skillet, and cook 4 minutes.
Stir in the cornmeal and cook, scraping the bottom of the skillet to keep the cornmeal from burning, about 1-2 minutes.
Add the evaporated milk and scrape the bottom of the skillet well.  Add ½ cup of the low-fat milk, scrape the bottom of the skillet again, and remove from the heat to cool.
Whip the eggs with a wire whisk in a medium-sized mixing bowl until frothy, about 45 seconds.  Add the remaining cup of low-fat milk and whip until thoroughly blended.
Fold the cooled corn mixture into the egg mixture.
Coat a 9 x 9 x by 2 inch deep casserole with cooking spray, pour in the corn mixture, and bake until the pudding is set, about 35-45 minutes.
Cut into wedges or spoon the pudding onto plates, served warm.
---
*
Gratin Dauphinois
Christiana Tye
   This dish has a fancy name, but a down-home and hearty taste. These scalloped potatoes make a great dish to serve a crowd, and of course have a deliciously cheesy flavor.  Nine-year-old Caroline Tye absolutely loves this recipe and makes it with her parents any chance she gets.  They've been making it often during quarantine. Caroline notes it's difficult to not consume the entire dish in a single sitting!
Ingredients
1 garlic clove, halved
Cooking spray (or butter)
6 red potatoes, about 2 pounds. (Can be any kind of potatoes, we use yellow and purple sometimes, too.)
2 Tb. butter, melted
½ tsp. salt
1/8 tsp. black or lemon pepper
½ c. shredded Gruyère cheese (or any kind of shredded cheese. We often used shredded Mexican cheese.)
1 c. fat-free milk (doesn't have to be fat-free)
Preparation (Five Easy Steps to Deliciousness)
Cut the potatoes into 1/8-inch slices. There is no need to peel them.
Preheat the oven to 425°.
Rub an 11 x 7-inch baking dish with the cut sides of the garlic halves; then discard the garlic. Coat the dish with cooking spray (or butter or oil).
(We learned the hard way that the right size dish is key.  Too small and the potatoes don't bake full through; too big and the potatoes can get too mushy.)
Arrange half of the potatoes in the dish, and drizzle with half of the melted butter. Sprinkle with half of the salt and half of the pepper, and top with half of the cheese. Repeat the layers.
Bring the milk to a boil over low heat in a small saucepan; then pour over the potato mixture. (See the photo above for what the dish looks like going into the oven.)
Bake for 40 minutes, or until tender.
---
*
Pasta Salad
This recipe is really simple and it's a delicious side dish all year round. It's my Mom's recipe, so I lovingly submit it in her memory.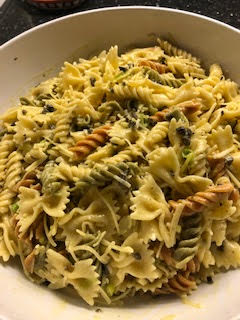 Ingredients
½ lb. bow tie pasta
½ lb. tri-color rotini
1 bunch green onions, chopped
1 small 4 oz. can black olives, chopped
Grated Parmesan cheese to taste
Optional: Pimento (1 small-medium can)
Pasta Salad Dressing
3 Tb. Dijon mustard
3 Tb. lemon juice (from fresh lemons or bottled lemon juice)
½ c. olive oil
4 garlic cloves (minced)
Preparation
Cook the pasta according to the package directions; cool under cold water & drain well.
Add the chopped black olives and green onions (and pimento, if desired) to the cool pasta.

Mix the dressing ingredients together, and then let it sit in a container for an hour or so, then pour it over the pasta salad.

After the pasta salad dressing has been added to your liking, add grated parmesan cheese to taste; mix all together and serve. (I think it actually tastes even better the next day )
Serves 8-12
---
*
May's Corn Casserole (serves 4-6)

Merle Monroe
     My mother-in-law, May Monroe, should get the credit for this recipe.  It was a family staple at the many holiday meals she prepared in Southern Indiana. I am happy to say that several of her descendants also prepare it regularly….for family meals and to carry to potluck dinners.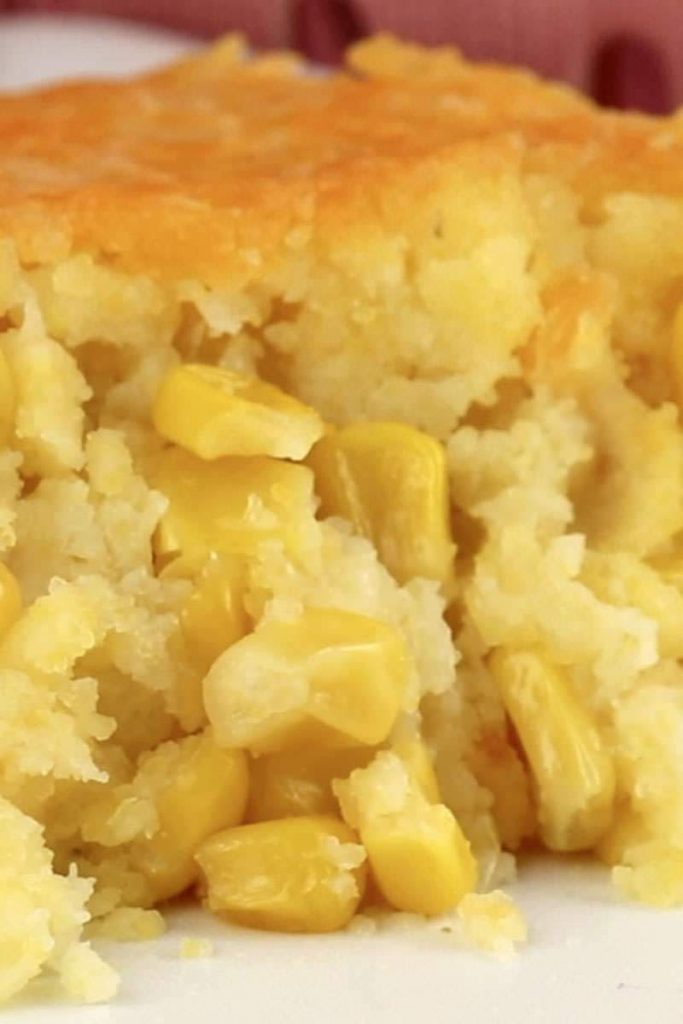 Ingredients
1 can cream-style corn
1 can whole kernel corn, drained
1 package Jiffy Cornbread Mix
2 eggs, beaten
8 oz. sour cream
1 stick (½ c.) butter, melted
Cornflake crumbs for topping
Preparation
Mix the two kinds of corn together in a bowl.
Add the beaten eggs, and the Jiffy Mix.
Add the sour cream and stir in the melted butter.
Pour the mixture into greased casserole dish.
Sprinkle the cornflake crumbs on top.
Bake at 350 degrees for 45 to 60 minutes.
Test for doneness by inserting a knife in the center.  The knife will come out clean when the casserole is done.
---
*
Greek Spinach
     I am a Lincolnwood resident but use the Evanston library. I hope you'll accept a simple, tried and true family favorite.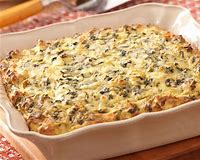 Ingredients
3 eggs
3 Tb. flour

1 pkg. drained uncooked frozen spinach

1/2 lb. shredded sharp cheddar cheese

1 lb. small curd creamed cottage cheese
Preparation
Beat the eggs, add then beat in the flour.
Add the spinach, and the shredded cheese.
Mix together and pour into buttered 10"x 13" baking pan.
Smooth the top.
Cook for 45 minutes in a 350° oven for 45-60 minutes until golden brown.

---
*
Middle Eastern Rice
Anne Walker
     I grew up in NYC, where we frequently enjoyed Middle Eastern foods. Since moving to Evanston ages ago, I have sampled the wonderful variety of Middle Eastern foods available in Chicagoland.  I created this recipe based on my eating/cooking experience with Middle Eastern foods.   The Vietnamese cinnamon I use can be found at Evanston's Spice House on Central Street. It is my all-time favorite.
     This is an original recipe that I created based on all the yummy Middle Eastern food I have eaten over the years.
Ingredients
1 c. uncooked long-grain

white

rice

¼ tsp. garlic powder

1/3 -1/2 c. chopped raisins

1/4 – 1/3 c. coarsely chopped pine nuts (or cashews)

1 large carrot, diced

1/2 – 3/4 Tb. cinnamon (Vietnamese cinnamon is the most flavorful)

1

medium

onion, diced

Butter

(

2

or more Tb.,

to taste.  Keep in mind this will be used to flavor and moisten the entire dish.

)

Salt

(1/4 tsp. or more, to taste)

P

epper

(1/4 tsp. or more, to taste)

1/4 – 1/3 c. chopped fresh parsley
Preparation
1.
Prepare
the
rice and set aside.
2.
Saute
the
onions in butter
.  Then a
dd diced carrots, garlic, salt, pepper, and ¾ of the cinnamon
.
 Cover and cook until the carrots are halfway to soft.
3.
Add raisins, mix
,
and continue cooking until the carrots are almost tender.
4.
Mix in
nuts, parsley, rice,
and
the remaining cinnamon
.  C
ook some more.
 At this step you can add more of the spices and butter, to taste, if you wish (Cinnamon should be the predominant flavor, followed by garlic).
---