Peanut Slaw
Lisa Major
     I found this recipe online years ago, looking for a summer slaw with a non-mayo based dressing. It goes really well with burgers or ribs. We have served it, to much acclaim, at many spring and summer gatherings at our home, in our beloved Evanston. May we all be able to have those gatherings again soon. Enjoy.
Ingredients
Slaw ingredients                                                                                           
1 c. red cabbage chopped
2 c. green cabbage chopped
1/2 c.Napa cabbage shredded
2 carrots, peeled, chopped
1 red bell pepper, thinly sliced
2 c. cilantro chopped
4 or 5 green onions, chopped
Dressing ingredients
6 Tb.vegetable oil
6 Tb. rice vinegar
5 Tb. peanut butter
3 Tb.soy sauce
3 Tb. brown sugar
2 tsp. fresh ginger, peeled, minced
1 1/2 tsp. garlic, peeled, minced
Preparation
Mix above, and chill. Then add dressing.
Serves 8 to 10.
---
*
Confetti Rice and Vegetable Salad
Phyllis Funkenbusch
Ingredients
Salad ingredients
2 boxes Uncle Ben's Quick Cooking Long Grain and Wild Rice
½ c. red or white onion, chopped
½ c.bell pepper, any color, chopped
1 can (15 ounces) black beans, rinsed and drained
1 can (11 ounces) corn, drained
Dressing ingredients
¼ c. vegetable oil
2 Tb. white vinegar
2 Tb. sugar
¼ tsp. salt
Pinch black pepper
Preparation
Cook the rice according to package directions, omitting the oil/butter. Set aside to cool.
Combine dressing ingredients in a clean jar with a tight-fitting lid. Shake vigorously to combine.  Set aside.
When the rice has cooled, transfer to a large bowl. Add prepared vegetables.
Toss rice and vegetables with the dressing. Add dressing sparingly, using only enough to give the salad a nice sheen.
Refrigerate until ready to serve.
Notes
The salad will keep in the refrigerator for 3-4 days.
The unused dressing tastes delicious on a greens and tomato salad.
This salad can be made with any combination of vegetables/nuts/fruits. For instance:  green onions, garbanzo beans, diced cooked carrots, cooked peas, slivered almonds, chopped walnuts, light or dark raisins, dried cranberries, or dried cherries.
Yield:  Serves a crowd
---
*
Salad Dressing
Phyllis Kravitz
     This recipe is handy for people who want to limit their fat but still enjoy a good salad.  Also it is preferable to store bought varieties.  A nutritionist gave it to me many years ago.
4 Tb. olive oil
6 Tb. any kind of vinegar
1 Tb. water or broth
1 tsp. any flavoring such as crushed garlic, your favorite herbs, dry mustard
---
*
Chickpea Salad with Lemon, Parmesan, and Fresh Herbs
Jill Schacter
  While stuck at home during the pandemic, my son, marooned home from his junior year in college, is the gourmet cook. Lucky me. He cooks and bakes inspiring and complex dishes every single day. I will never forget the gained time I got with him during the COVID-19 times when he unexpectedly became my housemate once again.  And me? I specialize in the delicious but simple things.
     Here is one of our staple lunches that makes us both happy! I usually double it.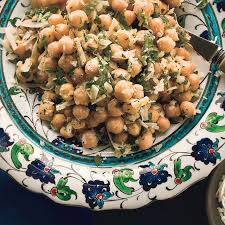 Ingredients for 2 servings
1 15oz can chickpeas, rinsed and drained
2 Tb. chopped fresh basil
2 Tb. chopped fresh Italian parsley
2 Tb. fresh lemon juice
4 tsp. extra virgin olive oil
1 small garlic clove, minced
1/3 c. packed freshly grated Parmesan cheese
Coarse Kosher salt
Preparation
Combine the chickpeas, basil, parsley, lemon juice, olive oil and garlic in medium bowl.
Add the parmesan cheese and toss gently to blend thoroughly.
Season to taste with coarse Kosher salt and freshly ground black pepper. (Can be made four hours ahead.)
Cover and refrigerate. Serve chilled or at room temperature.
---
*
Hot Sweet Tangy Salad
Alison Riess
     I am a fourth generation Evanstonian and have "super tweaked" my Grandma Rose Riess's German Coleslaw. She used green cabbage, onion, celery, wine vinegar, bacon and its fat. When I make it that way, I add poached chicken breast.
     This is one of my absolute favorite recipes, and it makes enough to consume all week long. The secret ingredient is the sauce I buy from Alfredo, the cook at the Sher-Main Grill (on Main Street). I hope you enjoy it!
Ingredients
35 small onions: a mixture of gold pearl, white pearl, shallots, and/or cipollini

Irish soda bread

2 Tb. coconut oil

1 c. almonds
1 head of red cabbage, thinly sliced
5 raw beets, peeled and diced
2 Vidalia or other sweet onions, chopped
1 c. dried figs, cut in pieces with scissors
1 c. sun dried tomatoes, chopped
5 whole dried piquin chilis
1 tsp. whole allspice
1 tsp. each of white, green, red and black peppercorns
a handful of garlic greens, sliced
Dressing
3/4 c. olive oil
1 c. white balsamic vinegar
1/4 c Alfredo's sauce (from the Sher-Main Grill in Evanston)
Preparation
Roast the mixed onions in a 375° oven for an hour and toss with coconut oil half way through.
Toast thick sliced Irish soda bread till it's extra hard and set aside.
In a large bowl combine the cabbage, Vidalia onions and beets.
Add in the dried figs, sun dried tomatoes, almonds, peppercorns, piquin chilis, and allspice.
Mix together the dressing ingredients until combined and pour over the salad.
Serve, topped with roasted whole onions, and scissor cut garlic greens.
Enjoy with toasted Irish soda bread to cool off a spicy bite.
12-14 servings
---
*
Quarantine Salad
Kate Tyo
     I love when a dish surprises me, and this one does that for sure.  It's the perfect combo of sweet, salty, crunchy, and creamy.  The kraut throws people off but everyone who's tried it has loved it. This dish "came to me" during day thirty-eleventh of quarantine and it's been saving my life ever since. It never ceases to refresh me and make me happy; who knew a salad could do that?!
Ingredients
1 orange (Cara Cara, Navel, or any other variety), chopped
1 avocado, chopped
1 handful macadamia or pistachio nuts
1 Tb. sauerkraut (Trust!)
Preparation
Gently fold ingredients together and enjoy!
---