Caramel Apple Dip
Connor Mitchell, ETHS student
     I like this recipe because my mom always serves this when company comes over. The dip is sweet and salty at the same time and reminds me of eating a caramel-covered apple, but without the sticky caramel. I like to make it because it's very easy and quick. It always adds a touch of creativity to a party.
Ingredients
8 oz. cream cheese
1/2 c. brown sugar
1 tsp. vanilla extract
1/2 tsp. salt
1/2 c. chopped peanuts
Preparation
Mix the cream cheese and brown sugar together in a medium-sized bowl.
Stir in vanilla and salt. Add peanuts just before serving.
Serve with apple slices for dipping.
---
Cheese Apple Spread
Gretchen Livingston
     Here is my recipe for a sandwich/cracker spread.  Though I do plenty of more involved cooking, with complicated ingredients and many pans and dishes, this is a great easy lunch, snack, or appetizer.  I created the recipe after living in England, where cheese and apple sandwiches are common.  Our local Safeway grocery store had a café that served a baguette sandwich with this spread, which was easy to recreate at home.  My daughter Clara, then 4 years old and now 24, used to love eating it in England, and we have been enjoying it again during our stay at home time.
     It can be served as a snack, appetizer, or sandwich spread.
*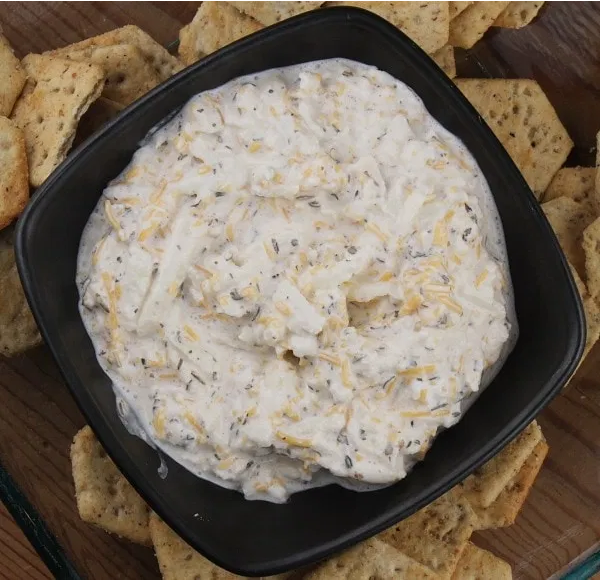 Ingredients
Grated block of sharp white cheddar (if a larger block, use half)
1-2 apples-either grated or finely chopped, skin on is fine–I like granny smith for the tartness
1-2 grated carrots depending on size
A good handful of sunflower seeds
A few scallions, finely chopped (or some other onion)
Preparation
Mix together all the ingredients with enough mayonnaise to make everything stick together.
Great on sandwich, crackers, or even plain!
---
*
Crispy Caramel Corn
Emily Guthrie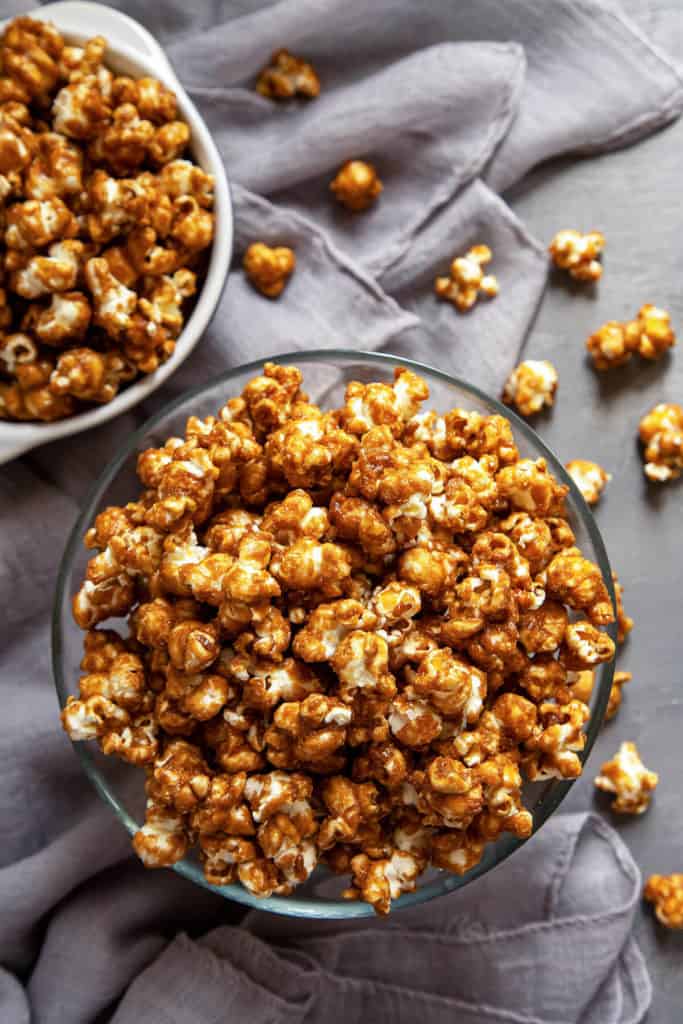 Makes 13 cups
Ingredients
1 heaping Tb. peanut oil
1 c. unpopped white popcorn
2 tsp. salt
2 c. light brown sugar
1 c. salted butter
1 c. light corn syrup
½ tsp. baking soda
Preparation
Pop the popcorn.
Combine the brown sugar, butter, corn syrup and baking soda in a medium heavy saucepan. Heat to boiling over medium high heat.
Cook, without stirring until the mixture reaches 235º on a candy thermometer, about 8 minutes. Remove from heat.
Heat oven to 250º. Carefully pour the caramel mixture over the popcorn.
Stir the mixture with a heat-resistant spatula or buttered wooden spoon to evenly coat the popcorn, working quickly to coat the kernels.
Bake the popcorn 1 hour, stirring every 10 minutes to continue coating uniformly. Don't neglect this step.
Remove the pan from the oven and allow to cool on wire rack.
Break apart any clumps with your hands.
---
*
Coconut & Cashew Kanome
Karen Bermann-Mazibuko
     This "recipe" is from a dear friend of mine who learned about it in Thailand. She shared it with me shortly after we met in 2006 and it became my go-to snack. It means a lot to me because in 2008, when my son was born, she brought a whole tub to the hospital for me. Food made with love = happy memories.
Ingredients
1 c. finely shredded coconut
2 c. roasted cashews
Honey
"A dab" of Thai Kitchen chili paste
Preparation
In a pan on medium-high heat, mix the cashews and coconut.
Add the honey and chili paste until it makes the coconut and cashews stick together. Stir constantly until the coconut browns – about 1 minute. ENJOY!
---
*
Mumbai Vada Pav
Amrita Bagwe
     What comes to your mind when you think of Indian Street Food? I bet its Samosas or if you happen to watch a lot of Bollywood movies, you may think of Pani Puri. However, there is another hidden gem straight from the streets of Mumbai popularly known as Vada Pav.
     I am from Mumbai and when I found myself in Evanston's Whole Foods buying groceries, I found a small bag of happiness. Well the dinner rolls also known as Pav in Mumbai. My husband and me treated our Indian taste buds with my mother's Vada Pav recipe which I am sharing below. I hope you enjoy the spicy tangy dish as much as we do. I have incorporated the traditional recipe for all chutneys as well. However, you can always enjoy the vada pav with ketchup for a quick bite.
Ingredients
For Vada
250 grams potatoes
½ tsp. green chili paste
½ tsp. ginger paste
1 tsp. garlic paste
2 Tb. cilantro paste
Salt to taste
For vada batter
100 grams chickpea flour (besan)
½ tsp. turmeric
¼ tsp. baking soda

Water as required

Salt to taste
For tempering
¼ tsp. mustard seeds
¼ tsp. cumin seeds
¼ tsp. asafoetida (hing)
Oil for frying vada and tempering
For tamarind chutney
4 Tb. Tamarind paste
2 Tb. sugar
For dry peanut chutney
¼ c. toasted peanuts
1 tsp. red chili powder
2-3 cloves of garlic
½ tsp. oil
½ tsp. sugar
Salt to taste
For Serving
Dinner buns from Whole Foods
Fried green chilies
Preparation
Vada
Peel and boil the potatoes till soft. To check pierce with a knife or fork and it should slide in easily. Chop them into small dices.
In a large bowl take the diced potatoes, green chili paste, garlic paste, ginger paste and cilantro paste with salt or as per your liking. I add about 1tsp for this quantity.
Time to temper the potato mix. In a pan on medium heat heat 2 tablespoons of oil and the mustard seeds. When they start popping add the cumin seeds and asafoetida.
Add the potato mix to the pan and mix to incorporate the tempering for about 4-5 minutes. Take the pan off the heat and let the mix cool.
Batter
Mix the chickpea flour, turmeric, salt and water to form a paste. The paste should be of dropping consistency and not runny.
Heat the oil in a pan over medium heat. While it is heating, form the potato mixture into small balls around 4-5 cms in diameter. They should fit inside the buns you are using.
Add the baking soda to the batter and mix well. Dip the potato rounds in the batter and fry till golden brown.
Do not discard the chickpea flour fritters which are result of dripping batter. They are perfect addition to the vada pav as a crunchy element. It is known as Chura in India.

Notes about the chutneys
For tangy and sweet element mix tamarind paste and sugar with about 1 tbsp water. Back in India it is made with jaggery, tamarind paste and dates, it is much healthier option.
For spicy element, grind roasted peanuts, red chili powder, garlic, sugar and oil into fine powder. You can fry some green chilies for extra heat.
Assemble the Vada Pav first by applying tamarind chutney, vada and peanut chutney and do not forget to add the

chura

.
You can also enjoy the vada pav with ketchup and chura. With a cup of tea or coffee.
---
*
Revelle Family

Cheddar Puffs
Eleanor Revelle, Alderman 7th Ward
  A super easy recipe that has been a family favorite for many years.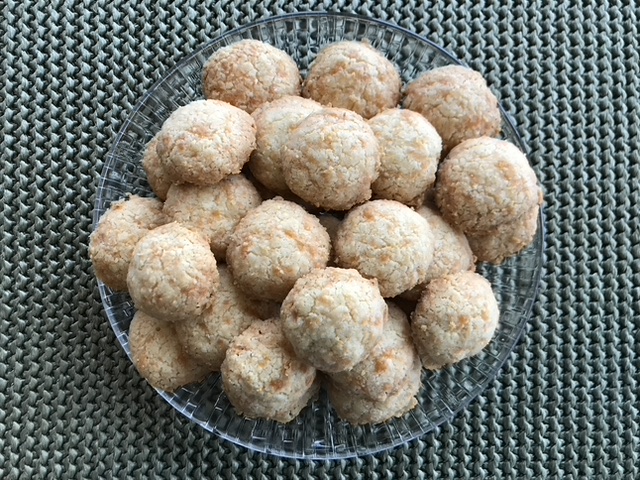 Ingredients
​

1/2 c. butter

​

4 oz.

sharp cheddar cheese

, grated

​

1 c. flour

​

1/

2

tsp. salt
Preparation
Place all the ingredients in the bowl of a food processor.

Pulse until the mixture clumps together and forms a dough.

Roll into small balls

, about half a tablespoon of dough for each

.

Bake at 400°

until puffed and golden, about

12 minutes

.
Makes about 36 cheese puffs.
Dough will keep in the fridge for several days.
---