Frittata à la Casa
Camille Blachowicz, Ph.D.
     The "cucina povera" of Italy stresses the imaginative use of whatever is at hand and makes tasty use of leftovers so nothing is wasted.  A frittata, cousin of the French omelet and the Spanish tortilla Espanola, is the perfect go to recipe in hard times or times when grocery-getting  is tough and you want to use what  you have on hand.  It can be made with pantry goods, leftovers or whatever you love to eat. More a technique than a recipe, this was a staple in my house growing up and is a staple in my house now. It's a reminder of my family, my heritage, the creative talents of frugal cooks, and the coziness of simple, quick and delicious shared meals. This dish can also be served for breakfast, lunch or dinner, or as a snack.
Ingredients
6-8 eggs
onions, shallots or green onions
cooked Potatoes-can be leftover roasted or fried potatoes or microwaved until soft, peel and chunk into pieces. These are the universal fillers
oil or butter
cooked leftovers such as

cooked/roasted vegetables; cooked meat like ham chopped in bits; mushrooms, tomatoes, cheese- use your imagination.  If you like to eat it, it can go in.  But think about your combinations.  Less is more.

frying pan that can go in a 350º oven
Preparation
Heat oven to 350º.
Gloss you frying pan with oil or butter (or oil and butter) and cook onions over medium heat until they are soft and golden.
Stir in the potatoes and one or two other things.  We like vegetables, small chunks of ham or leftover meat, or chicken.
Add salt and pepper and any herb you like ( basil, thyme, fennel-go easy) or not.
Beat 6-8 eggs with salt and pepper until yellow and foamy pour into pan,  and stir to distribute the other contents and let it set a minute or so.
Place pan in oven and check every five minutes until it is fully "set" with only a slight jiggle in the middle when you shake it.
It can be served hot, warm or cold.  Some like salsa or ketchup as a condiment. Leftover pasta sauce is also good.
Any leftover frittata can be used as filling for a sandwich later or the next day.
NOTE:  If adding cheese, can be added to eggs before pouring into pan or on top for the last 5 min. of baking. Can cut into small pieces for appetizer.
Some favorite combos: Breakfast (ham, cheese, red pepper); Mexican-(Leftover chili or taco meat and cheese);  California (chicken bits, artichoke hearts,  tarragon and serve with avocado slices on top, Greek-(anything with spinach and feta.)
---
*
East Indian Curry Cheese Ball
Ken Kling
     This has been a favorite "go-to" recipe as an appetizer. Serves 8-10 people easily.
Ingredients
1/2 c. peanuts
1/2 c. raisins
1/2 c. real bacon bits
1 bunch green onion tops
11 oz. cream cheese, softened
1 tsp. curry powder (or, more if you love the taste of of curry)
3 Tb. sour cream
Mango Chutney
Preparation
Chop peanuts, raisins and bacon bits in the food processor.
Add the remaining ingredients and shape into a ball. Pour the chutney on top.
It's best to refrigerate the dip overnight.
Serve with thin crackers
---
*
Peggy's Cheesy Things
Jessica Ticus
     This is a bridge club appetizer circa 1959. It's a grilled cheese appetizer – totally delicious, absolutely full of fat, and a possible cure for COVID-19. I recently ordered the ingredients from Amazon, made a big batch and delivered them to friends (social distancing) to enjoy during a Zoom cocktail hour.
Ingredients
4-5 loa

ves of Pepperidge White Farm Bread (

the

original loaf

works

best but

sandwich loaf

works well, too).

4 jars of Old English Cheese Spread (

now a "cult classic" found at

Walmar

t

or

on Amazon

)

1 lb

.

butter

1 scant tsp. of soy sauce
Preparation
Combine the ingredients and beat

with a hand mixer

until well mixed.

On a cutting board, line up the bread, stacking three slices on top on each other. Trim the crusts off each side. 

Layer the cheesy spread between each layer. It doesn't have to be thick, just well covered. 

When you have the "sandwiches" done, quarter them and place them on a foil lined cookie sheet and freeze until set.

Then wrap blocks of 16 or so in foil into and store in the freezer until ready to bake. 

Pre-heat the oven to 350 degrees.

Bake the frozen squares on a cookie sheet for 15-20 minutes, or until toasty on top.
Cheesy Things will keep in the freezer until the end of time/epidemic.
---
*
Jalapeño Popper Dip—-gluten free optional
Kim Hegelund
     This dip has developed over the last four years into a spicy, cheesy, gooey finger linkin' dip for parties and events. As one of my friends said when asked their thoughts on it "Please make more".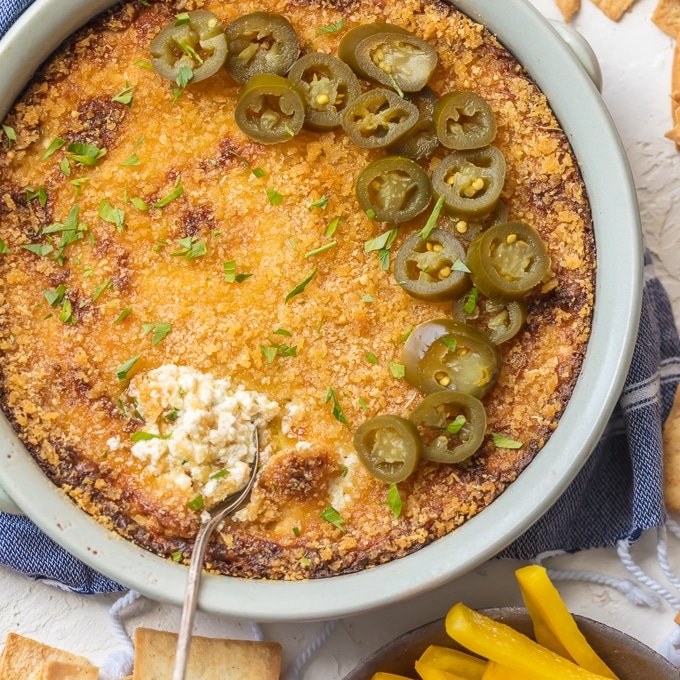 Prep time: 20 minutes
Cook time 20-25 minutes
Ingredients
2 (8 oz.) packages of cream cheese, softened
1 c. mayonnaise
1 (4 oz.) can chopped green chilies, drained
1 ½ jars Kraft Old English Sharp Cheddar Cheese

2-6 seeded and finely chopped fresh jalapenos (vary according to your preference for spice)

2-4 Tb. or 1 (7-oz.) can, chopped pickled jalapenos
Topping
1 ½ cups grated parmesan cheese
1 ½ cups panko (preferred) or breadcrumbs
3 Tb. melted butter
Preparation
Preheat oven to 400º.

In a large mixing bowl stir together the softened cream cheese, mayonnaise, and green chilies.
Then add both the fresh and pickled jalapenos.
Once mixed add a dollop at a time of sharp cheddar cheese and smear it around to balance it throughout the mixture.
In a separate bowl mix the panko and parmesan cheese, then slowly add the melted butter.

In a pan or two of your choosing (you will serve it in this pan) 8 inch square, round, rectangle, bundt, cupcake, loaf or one that is laying around, dump the popper dip into the pan, leaving about 2 inches on top for the topping. You should be able to scoop out the dip easily when it's done.

Cook for roughly 20-25 minutes until the breadcrumbs start to lightly brown, or darken if you prefer yours with a bit more crunch.
Notes
Can also be made in a crockpot on low for 4 hours without the topping.
Serve with toasted bread slices or chips. We prefer El Milagro corn chips!
---